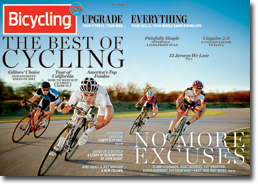 Rodale titles Prevention, Women's Health, Bicycling, Organic Gardening and Runner's World all experienced increases in ad pages for their June issues in a year-over-year comparison, according to the Publisher's Information Bureau.
Flagship Men's Health is the one Rodale title that didn't see a bump for June, dropping .7 percent to 93.18 pages.
Bicycling leads the pack with its redesigned June issue; ad pages are up 29 percent, to 74.92 pages.
Runner's World also did well, up 21.3 percent to 70.32 pages.
Women's Health, who won their first National Magazine Award on Monday for General Excellence in the Fashion, Service and Lifestyle category, saw an uptick of 3.01 percent from June 2010's 62.49 ad pages to June 2011's 64.37 pages.
PIB doesn't track Rodale's seventh magazine title, Running Times.