Five Reasons Why Users Are Underpaying for Your Content

Scout Analytics offers "predictive pricing" service for content licensing deals.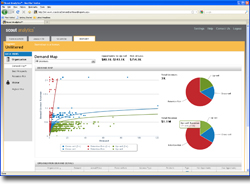 Scout Analytics, a specialist in digital revenue optimization (including calculating revenue-per-visitor for publisher sites), has introduced a new service called Demand Map that helps publishers determine what to charge for online content.
Demand Map is a SaaS (software as a service) solution that helps match the right content license to the right customer. The software determines a price appropriate for each customer and whether or not that customer is currently overpaying or underpaying. "We figure out what the median level of usage is for a paid content site and within that usage band what the median price is and what users pay for that amount of usage," says Matt Shanahan, senior vice president of marketing and strategy at Scout Analytics. "Once you have this curve, you can figure our what pricing should look like and who's above and below that."
To use Demand Map, publishers add Java script provided by Scout Analytics to their site, and Scout Analytics starts generating maps from that.
There are five basic reasons why a user may be underpaying for content online, according to Shanahan. They include:
1) The Site License Device Counts. Site licenses are negotiated based on anticipated active users. When comparing the anticipated users versus number of active devices there can be a discrepancy. "For instance, a publisher negotiated for 100 user site licenses, but the publisher tracks 1,000 active devices," says Shanahan. "The publisher can look at other companies with 100 user licenses and benchmark on average only 200 active devices. The publisher can be use the benchmark to negotiate."
2) Unlicensed use of Individual Licenses. "When usage level is high and active device counts are high, there's usually unlicensed use behind it," says Shanahan. "It can be further confirmed by people coming in from different geographies, etc."
3) Tiering reader roles. "Some users are transactional, others use it every day as part of their job, others are more occasional or project oriented," says Shanahan. "Establishing trigger points creates licenses for a basic, free version and a paid, professional version."
4) Are salespeople discounting? "If a publisher sees high useage/low payment, it can sometimes be tied to certain sales geography or sales management," says Shanahan. "It could be a sales representative that relies on discounting rather than value to sell. Sales management has to say 'stop the discounting.'"
5) Redistribution. "Someone could be using your content or redistributing," says Shanahan. "This occurs frequently with business services firms such as PR firms or market intelligence firms. These firms log in, scrape the data on behalf of their clients to generate reports. The Demand Map highlights where those are occurring, gives codes to sales team about what action to take."
Meet the Author
---