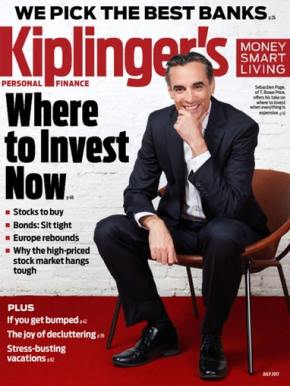 After eight years as editor-in-chief of Kiplinger's Personal Finance, Janet Bodnar has stepped down, and in the process left a considerable void at the monthly's editorial helm.
To fill that void, Knight Kiplinger, third-generation head of the 97-year-old shop, has elected to keep things in the family, so to speak — entrusting the magazine to the hands of 37-year company veteran Mark Solheim.
"I have never worked at another organization, so it's been my entire career, except for summer jobs," Solheim tells Folio:. "It's unusual in any industry, but especially in our industry. That goes right to what a great place this is, run by a family of journalists who are doing all they can to keep good, traditional journalism going."
Still, running a profitable print magazine — which has managed to maintain a steady circulation of around 600,000 for the better part of the last decade, according to data from the Alliance for Audited Media — and keeping it relevant is no simple undertaking.
On the week in which he offiically steps into the new role, Folio: sat down with Solheim to learn a little more about his plans for the magazine going forward.
---
Folio: What's kept you at Kiplinger for so long?
Mark Solheim: Our organization is just big enough. It's not huge; we're a little over 100 people. We've kept the place open by being lean and mean and increasing our productivity. But for me, from a young age, I was able to move around. I started in manuscripts and proofreading and soon became the chief copy editor.
But meanwhile, they were giving anyone who wanted to a chance to write. When I rose to managing editor back in the 90s, online was just starting to come into its own. All of these opportunities were there for me, and my bosses were very receptive to letting me do them. If I ever got bored, I was always able to do something a little different.
Folio: Is maintaining the print publication's vitality going to be a challenge?
Solheim: Absolutely. There's no doubt that we're in a different era. Knight Kiplinger still points to the magazine as the flagship, but in terms of profitability, we're not leading the charge. Kiplinger.com has been increasingly profitable and is growing every year, and our newsletters are still profitable. Even with fewer people subscribing to them, they still have a good profit margin.
People have been trained not to pay very much for subscriptions. Our price is $12 per year. When I started in 1980, I believe it was $12 back then, too. We've come full circle. So what can we do? We always cut costs wherever we can. People are doing more. They're writing for both print and digital. As editor, I have the challenge of being editor, but also doing a lot of the same workload and producing articles as I was before.
Folio: Does that impact the types of new staffers you look to bring on?
Solheim: Yes. We hired someone from AARP who has a long background in finance. Above all, we look for people who have expertise in the content. We're in D.C., so it's different being here than in New York where there are more journalists kicking around. Everyone's wearing a lot of different hats, and this new editor understands the difference between digital and print, and I think all of our staffers understand that too, and can do both. You have to have someone that can do both now.
Folio: How can you keep Kiplinger relevant and necessary for readers in such a difficult environment?
Solheim: We often say that we invented second-person personal finance journalism, back in 1947. The philosophy has never wavered in that the reader comes first. We make sure that everything we do has an effect on the reader. If we keep that in mind, it keeps us on a straight and narrow path of writing articles that are relevant to people who want to do well with their finances, retire with security, send their children to college.
People who value print and want a print magazine certainly use the internet, but they use it differently. They're in and out. They want their information quickly. It's not an environment where you can relax and consume at your leisure articles that require some focus and concentration. We recognize the difference there.
Folio: What are some ways in which you're trying to bring in younger readers?
Solheim: That's something we're thinking a lot about, and something we haven't quite figured out yet. I think we've been a little too tied to our reader polls; we know that half of the people filling those out are retirees. So we need to get a better handle on how we measure the success of our editorial. We play close attention to those surveys, but sometimes too much attention. My predecessor was very good at ignoring some of the lower numbers and saying, "This is something we need to do, so we're going to do it."
One thing we've seen is that we don't have a huge portion of our readership with children at home anymore, so we're going to see lower reader satisfaction for a big project like "Best College Values." Does that mean we shouldn't do it? No. We're going to continue to do it because it's a great service and it's something that will attract a younger readership – families who are saving for college or sending their kids to college. Those are the sort of things that we need to be careful about.