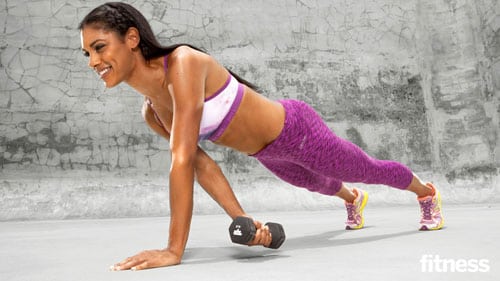 Meredith Corporation's flagship women's fitness site is launching SweatTV, a portal that will attempt to deliver a substantial makeover to the fitness-video user experience.
Hosted on Fitnessmagazine.com, SweatTV will offer an extensive library of user-friendly and highly navigable workout videos and deliver a degree of viewing flexibility that can be difficult to attain in a typical online environment.
Videos will be accessible—uninterrupted, mobile-device optimized and commercial-free for a 24-hour period—to visitors who agree to view a full sponsored message before beginning. Those who choose to become members of the site gain ongoing unrestricted access to the videos simply by signing in.
The videos and the introductory sponsor messages are delivered using "engagement player" technology Meredith acquired with the purchase of Selectable Media, a native and engagement-based advertising company, earlier this year. That format, says Melissa Inman, general manager of Fitnessmagazine.com and Shape.com, offers a better user and advertiser experience than the more common pre-roll advertising, which can prove especially frustrating to navigate when consuming very abbreviated workout video clips.
"We wanted to create a more premium viewing environment where you can watch more complete workouts without all the commercial interruptions, and have that experience wherever you are on a mobile device," Inman says. "We've taken a lot of video that was available in small, individual-move pieces and arranged them in a playlist format so they can play uninterrupted in a more long form, class-workout style."
In addition to a library of some 200 Fitnessmagazine instructional videos that have been enhanced, SweatTV will also offer similar content from partners. That list now includes Shape.com, FitStar, Grokker and POPSUGAR and could grow to include bloggers and other "influencers" and contributors as site traffic grows, Inman says.
The site's initial sponsor for the lead-in messaging for non-members is Propel Water, the Gatorade Company fitness water brand. Inman says other sponsors are being sought with the goal of giving visitors multiple ad-viewing options.
Meredith will be looking to drive traffic to the new portal via properties in its Active Women's Lifestyle Network and other partners, as well as through social media or paid campaigns, Inman says.