Fitness Magazine and Men's Journal Tag-Team Ad Sales

The unlikely partnership kicks off with two clients and more in the pipeline.

The Meredith Corporation and Wenner Media have created a unique partnership that could change the way some publishers strategize ad sales. Meredith's Fitness and Wenner's Men's Journal are packaging unified ad space that will be marketed to targeted accounts.
As the media landscape continues to transform, publishers are looking for innovative strategies to penetrate new business. However, collaborating with direct competitors is an unfamiliar tactic in most brands' playbooks.
"It's a competitive market place, and we agreed that anything we can do to make ourselves strong is a wise decision," says Fitness publisher, Eric Schwarzkopf.
According to Folio:'s sister publication min, Fitness has placed 507.25 ads within its book in the first half of this year, which is down -7.05 percent over 2012's 545.75 pages. On the other hand, Men's Journal is up 3.52 percent this year, which breaks down to 494.63 pages in 2013 versus 477.79 in 2012.
Still, the partnership is a 50-50 split in terms of responsibilities, and revenue will be disbursed according to where it's earned. "Whatever media revenue comes in from the website or magazine is ours and the same goes for them [Wenner]," Schwarzkopf says.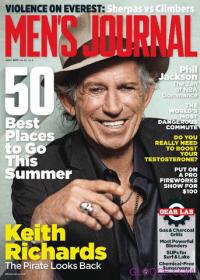 Marmot was the first company to sign on, and both publications will be official media partners for the company's one-year "Lead Now" campaign. In addition to Marmot, a second client will be running a 4-page spread in both magazines and two additional Meredith titles. Schwarzkopf says there are more opportunities in the pipeline, but for the time being they are "on track" in terms of their objectives and expectations.
"We were very realistic out of the gate as we were discussing this possibility," Schwarzkopf says. "If this brings in three, four or five new pieces of business then that's great, it's business we didn't have before, but we're already seeing the phones ring."
A partnership like this requires each brand to familiarize itself with one another. "We need to be versed in baseline demographics and circulation numbers for Men's Journal. But our demos line up nicely, so we can break them down, we can talk about them as an amalgam or we can talk about them individually," Schwarzkopf says.
Schwarzkopf also indicates that it's the sales teams who play the most critical role in the collaboration. "We have empowered our sales team to be the catalysts. We share each others' current issue so we can stay up to speed," he says. In other words, the sales team needs to frame its pitch with both brands in mind.
Looking ahead Schwarzkopf hints there is still more to come, "we have identified some other possible extensions and evolutions of the partnership, but I'm not at liberty to share more," he says.
Meet the Author
---