First-Quarter Media M&A Dips

Rush to close deals by end of 2012 creates Q1 vacuum.
First-quarter media M&A failed to surpass or even catch up with volume and value totals in the same period last year, says a report from media bankers The Jordan, Edmiston Group, Inc. Total deal value across the 10 sectors tracked by the firm dropped 38 percent, while the number of deals dipped by 6 percent.
A late-game surge in transactions last year helped propel full-year M&A 50 percent higher in volume than in 2011. Sellers rushed to close deals by the end of the year due to anticipated increases in capital gains taxes. But that rush created a vacuum in early 2013 dealmaking, slowing transaction volume and value down, says Scott Peters, co-president of JEGI.
The Marketing Services & Technology sector once again led the way in volume and value for the quarter, but came up 13 and 14 percent lower, respectively, than the same period last year. In the first quarter this year there were 118 deals worth a total of $2.5 billion, says the report.
While not yet at the same level, Mobile Media & Technology was the only sector to increase in both deal value and volume—its 41 deals for the quarter were valued at $819 million.
B-to-b media was way up in value for the quarter (61percent) and there was one fewer deal, bringing the total to 8.
Similarly, there were 11 consumer magazine deals, 5 fewer than in the first quarter of 2012, but the value was up 120 percent to $183 million.
There were 16 Exhibition & Conference deals, one more than last year, but value dropped 38 percent to $164 million.
According to JEGI, 2012 was a big year for leveraged financing, with lenders continuing to show interest in media. This, says the firm, bodes well for 2013, with acquisitions being made by a mix of financial and strategic buyers.
"The banks were back to business last year," says Peters. "We didn't have any major shocks to the system, there's pent up demand for capital and lenders came back in force."
Additionally, with interest rates on the low end, private equity players were lining up to refinance their debt, which drove much of the leverage financing and also edged up lending multiples a full point to 5-times EBITDA, notes Peters.
JEGI expects deal volume to return to more robust levels by the second half, again driven largely by smaller deals for assets with high-growth and transformational potential. Peppered in there, however, will be some movement of the larger portfolio companies as well.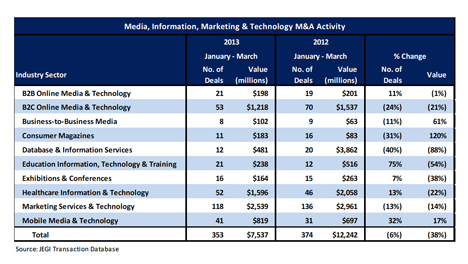 Meet the Author
---