Finding the Value in Digital Publishing

Publishers discussed content, revenue and audience strategies at NYC panel.
Digital—readers, advertising, revenue—is growing, but publishers are managing that growth in different ways depending on where their value propositions lie.
For a news-driven operation, that could mean emphasizing speed and developing paid products in niche verticals. It could be offering extensions like e-commerce and education for service-oriented publications.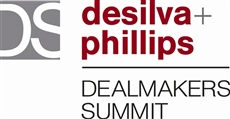 Other elements are universal. Content is consumed differently on mobile devices; data collection makes targeted advertising possible.
Publishers from different pockets of the industry discussed where they're finding value in digital at the DeSilva+Phillips Dealmakers Summit on Thursday. Rob Grimshaw, managing director of the Financial Times website, FT.com, Inbar Barak, SVP of digital programming and strategy at Martha Stewart Living Omnimedia, John Brown, Chief Digital Officer for Taunton Press, and Troy Young, president of Hearst Magazines Digital, were on the panel moderated by Miriam Gottfried, Heard on the Street columnist at The Wall Street Journal.
—
On adapting your content for mobile: "People consume content on mobile in fundamentally different ways from how they do on desktops," Grimshaw says. "It really is a revolution. The device is always with you and you use it habitually—people pick up their mobile device, I think, 150 times a day—and every time you expect a quick, bite-sized update."
They're not the only ones, but Grimshaw's team has developed a product, fastFT, specifically for that purpose. It's staffed 24-hours-a-day, providing a continuously-updated stream of condensed news summaries.
Taunton has approached the problem by going responsive, Brown says. They're looking at what kind of experiences can be adapted to mobile, but for now, none of it is mobile-specific.
"Mobile has forced a simplification of the reading experience," Young says. "In addition to shorter, bite-sized [content], we're seeing the death of the right rail."
On adding talent through acquisitions: As publishing and technology continue to merge, finding the right technical expertise has become a challenge, Young says, calling many SaaS companies potential targets for publishers.
"It's a New York problem and it's a media problem," he says.
How much mobile traffic do you get?
Grimshaw, FT: "We're seeing an enormous shift toward mobile consumption and tablets," he says, putting it at about 40 percent of total traffic. It'll be more than half by the middle of this year though. It's already crossed that threshold (58 percent) for core subscribers only.
Young, Hearst: Mobile audiences account for as much as three-quarters of the total readership for Hearst, Young says.
Brown, Taunton: Brown says Taunton gets about 38 percent of its traffic from devices at the moment. They're not a news-driven business though, so it hasn't been imperative to this point.
Barak, MSLO: Mobile readership is close to 50 percent right now for MSLO, and is projected to cross that mark by midyear. Right now the focus is on figuring out new ways to reach the user: "We have this tremendous opportunity to figure out how else to embed this in your life."
On paywalls: "Doing a paywall well is hard, but deciding to do it is an easy decision," Brown says. "It solves itself from a business-model standpoint."
One of Taunton's properties, Fine Cooking, just took its paywall down because the epicurean space is crowded right now, he says. Meanwhile, paywalls are thriving for most of the company's other brands.
Paywalls aren't the solution for Hearst, Young says—the markets they occupy are too competitive. While that takes the paywall solution off the table, it's forced them to look into other revenue streams like e-commerce.
"Paywalls aren't the solution for every media out there," Grimshaw says. "But the big thing for publishers is diversifying their businesses."
On e-commerce: It's been growing rapidly for MSLO, Barak says. Paywalls won't work for them—"You don't really want to read about organizing," she says—but they're in the solutions business. They give you the information you need to buy and then the option to purchase.
On education: Taunton is focusing on real-time interaction with its consumers. They've been in the digital learning space for years through video and how-to guides, but now they're making instructors available on-demand. The project is in beta, Brown says.
On developing niche verticals: With digital distribution costing so much less than print, if you can occupy a number of niches, you can build a business with scale, Grimshaw says. Marketing those verticals is easier when you're building them off of an already-established core though. The FT's regional intelligence vertical for China, for example, is marketed to people spending a lot of time on FT.com's unpaid China pages.
Meet the Author
---