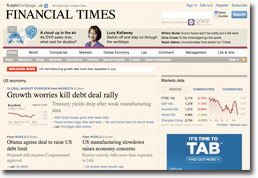 While many publishers are still grappling with the question of digital properties and revenue, The Financial Times continues to reap positive benefits from its paid collection model, according to first half 2011 financials released Friday.
The group reports that profits are up by 10 percent from the same time in 2010, with overall digital subscriptions propelling the number. The publication's website, FT.com, saw more than a 30 percent increase in subscriptions.
"At the FT Group, the changes we have made to the business model and mix mean we are well placed to grow even in tough markets for print circulation and advertising," says a news release from Pearson, publisher of The Financial Times. "We expect digital subscriptions, now the engine of the FT Group's growth, to continue to build steadily."
The group saw a 34 percent increase in digital subscriptions, up to 230,000, and registered users increased by 49 percent to 3.7 million. The Financial Times first launched a paid subscription model in 2001 that gave readers free access to certain content and required payment for others. In 2007, Pearson launched The Financial Times' metered model, which holds frequency based standards. Currently, registered users can sign up and get 10 articles for free a month, though payment is required for further access.
The New York Times recently adopted a similar model to that of The Financial Times—NYTimes.com visitors can now get 20 articles free a month or pay for more. The New York Times Company now has just 6,000 less paid digital subscribers, about 224,000 and about 57,000 subscribers for editions on eReaders and tablets, as initially reported by AD, though that metered model did not go into effect until this spring.
"In the first half of 2011, digital and services accounted for 46 percent of FT Group revenues and content revenues accounted for 57 percent," a news release from the group says. "The FT Group achieved good sales and profit growth in turbulent markets in the first half of 2011 and invested in a significant number of new product launches."
Mobile platforms are a growing demographic for the British based publication—about 22 percent of all traffic to FT.com is from a mobile device and account for about 15 percent of new subscriptions. There was a 4 percent increase in paid circulation across both the print and online platforms, to 585,000. The group estimates it reaches a daily audience of 2.1 million.
About 60 percent of sales for Pearson come from the United States.