Financial Times Events Segment Posts 11-Percent Growth

Brand classifies conference business as "standalone profit center."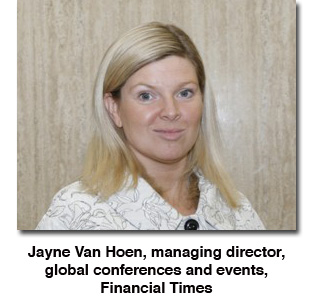 The conference segment of the Financial Times has gone from producing seven events in 2005 to more than 220 last year. Now, rebranded as Financial Times Live in 2012, the company has made a push toward integrating virtual and social elements into its live events.
Folio: caught up with Jayne Van Hoen, managing director of global conferences and events for Financial Times Live, to discuss where her group is headed.
Folio: The Financial Times live-streams several of its events and makes them available on-demand now. Previously, this was highly-gated content requiring a physical ticket to access. What went into the decision to add a virtual component?
Van Hoen: We only live-stream sound bites of our events. We don't live-steam fully because we don't want to open our content up to a free-for-all audience. It goes along with our policy around the FT, where content is primarily behind a paywall.
We use our live-streaming as a taster-a taster of the kind of quality and caliber of people that you would meet if you came to one of our events. Typically, from the portfolio of 220 events we ran last year, about six of seven of them are live-streamed.
That being said, it's early going for us. We built, I think, a rather special portal that holds our video player and options to tweet to events. You can be in New York and ask a question of the moderator at a power session in London, which is fabulous and has given us a really good and broad reach, but we don't want to just replicate conferences virtually. I don't think that would be a very good business model at this point. It's really a marketing tool for us to encourage people to come to our events.
This is the first year, so most of the events that we live-streamed last year are running this year. Digital Media, which was the first event we live-streamed last year, we're running in April this year, and we're seeing a good conversion rate on the people that actually logged-in, watched part of it last year. Now saying, 'Okay, we're going to put our money where are mouths are, and we're going to actually attend this year.'"
Folio: The strength of the Financial Times' print and web editorial products are core to the events side of the business, as well. What is the level of interaction between these sides of the company?
VH: I work very, very closely with the editorial team. The conference business is a for-profit business and it is a standalone profit center, as well, but we sort of sit between the hard-end of advertising and editorial. We never put any of our editors or moderators in a position where they would feel uncomfortable with sponsors. We're very, very careful with how we balance out content and commercial sponsorship.
We've been working very closely with FT.com, so we have a lot of architects from that part of the business that have really assisted us in making [our virtual events portal] as user-friendly as we possibly can. We tried to do something like this about six or seven years ago but the technology simply wasn't good enough to create a really good, high production opportunity for the audience. Now it's pretty slick.
Folio: What's ahead for FT Live? Are you going to continue the rapid rate of growth you've had recently?
VH: In 2005, we were producing somewhere in the region of seven events. In 2012, we produced over 220 events, so you can see it's growing exponentially and obviously it's growing in terms of revenues as well. Even through the downturn, it's been delivering double-digit growth, year-on-year, and in 2012 we actually delivered 11-percent growth.
We're looking to develop more regional events. We tend to run a lot of global summits and we found that we can segment some of the content and create regional offerings, which will then support the FT brand as a whole.
With the U.S., we're four years in, but we've still got a lot of work to do. Specifically, the West Coast corridor from the tech sites all the way down to San Diego-all of that space, we're really looking to grow. 
To stay updated on the latest FOLIO: news, become a Facebook fan and follow us on Twitter!
Meet the Author
---