'Financial Constraints' Force ASBPE to Cancel National Editorial Conference

Instead, group will produce a series of Webinars.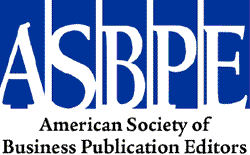 The American Society of Business Publication Editors has decided to cancel its national Editorial Conference, citing "budgetary constraints." The event had been scheduled for July 21 to 23 at the Hotel Sax in Chicago.
In its place, ASBPE says it will produce a series of Webinars based on the planned conference sessions. Details about the Webinars are forthcoming.
According to the ABPE Web site, the live conference was to focus on digital skills and ethics, and was going to feature the association's latest research project, conducted in partnership with the Medill journalism school at Northwestern University, about the state of digital skills, training and strategies. Other sessions topics included keeping up with social networking, leveraging free online tools and understanding analytics.
What is to become of the Print Azbee Awards of Excellence banquet, which was slated to be held in conjunction with the conference, was not immediately clear. An ASBPE spokesperson did not immediately return an e-mail seeking comment.
Meet the Author
---