UPDATE: Final Bids Said to be Due in Sale of Entrepreneur Media

Source: Elevation drops out; morale low, staff 'in the dark.'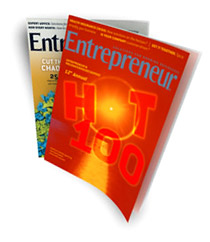 The sale of Entrepreneur Media may happen as soon as the middle of May, perhaps as early as the 8th, a source familiar with the company told FOLIO: this week.
The source, who is not directly connected to the sale but well informed, said that the process, which started in early February, now includes the financial-services firm A.G. Edwards among the potential buyers, as well as Dow Jones, R.H. Donnelley and possibly USA Today, thus adding to, and perhaps confirming, some of the names mentioned in a recent report on paidcontent.org.
Final bids are said to be due next week.
Entrepreneur Media is said to want $200 million for the company. If that's true, then the multiple would be more than three-times revenue, because Entrepreneur Media is about a $60 million company.
Another potential bidder, Elevation Partners, has bowed out, our source says, but that at least one private equity firm remains in the mix.
Entrepreneur Media president Neil Perlman declined to even acknowledge
that a sale is in the works or imminent. "We are looking for private
equity funding for acquisitions to accelerate our growth," he said. " A
sale may not be imminent." Perlman also said that none of the companies
named by FOLIO:'s source are in the mix, and the Elevation Partners
never was.
In the meantime, the source said, morale is low at Entrepreneur Media as the staff remains in the dark on the sale process. In the past couple of months, two key employees, business development chief Chuck Fuller and editorial director Rieva Lesonsky, have left the company. Both were longtime strategic decision-makers, with a combined 49 years at Entrepreneur Media.
Perlman said morale is not low, and that the company is performing strongly, with first-quarter ad revenue up by 15 percent over the same period in 2007. He said that Fuller left for a better job and Lesonsky "decided to follow her own advice and has started her own company."
[EDITOR'S NOTE: This story has been updated to include Perlman's comments.] 
Meet the Author
---