It's always hard for me to believe that there are people still surprised by unauthorized magazine subscription sales tactics, as Rick Edmonds detailed for the Poynter Institute. I work in publishing, and for four years, I've worked towards a resolution.
Perhaps I've grown immune to the level of financial devastation hucksters can cause, or maybe I've just become cynical about our ability to combat it—either way, the assertion that industry concern is "muted, at best" struck a nerve.
In 2010, while I was working in consumer marketing for The Nation, I became inundated with customer complaints. Hundreds of subscribers accused us of selling the magazine for more money than ever and, in some cases, not delivering the product. Photocopies of order forms I'd never seen, with sale prices I'd never authorized, accompanied the complaints. They attached copies of their checks, often made out to our publication, that we had never cashed, but that had been deposited by some rogue entity.
Someone else was cashing in on our name and I was determined to figure out who it was.
Here's how the scheme would work: A company obtained our subscriber list and began sending waves of mailings created to look like a typical magazine invoice or renewal. Subscribers were asked to pay $99.95 (our highest price was $79.00 at the time). In the meantime, the company created bogus insert cards by photocopying real cards that they'd taken from our magazine. They'd send us the cards in bulk, all in the same handwriting or typeface, with individual checks all drawn from the same bank. Checks were written for $29 per order—the rogue organization pocketed $70.95.
Two years later, I had become fascinated with the practice and found that it easily dates back 20 years. I interrogated my professional peers about the deception, trying to understand how they were handling it; I read discrete investigative reports of the operation; I researched civil cases between publishers and different fraudulent companies dating back to the 1990s. It seems that criminal prosecution was rarely the answer, though some publishers settled in civil cases. Then, in 2012, I signed a sworn affidavit for the Minnesota State Attorney General's office as a representative for The Nation.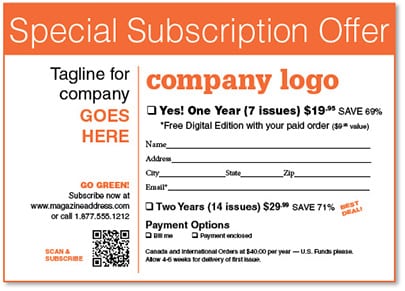 It's been a bumpy road for publishers. Only a few authorities seemed interested in the problem. For some, it seemed to be a problem outside of their local jurisdiction (why would Iowa, for instance, be interested in going after a company whose complainants were mostly from Connecticut?).
But for most, it seemed that authorities were confused by the relationship between legitimate magazine agents and magazines. I was told that this was a "magazine industry problem," and that we needed to resolve things ourselves.
To be clear, there are legitimate agents out there. Different publishers use them for different means. For some, it's a way to increase brand visibility; for others, they can increase subscriber numbers to support advertising dollars. At The Nation, we relied on agents to sell our title to education markets and library catalogs, a demographic we ordinarily would not be able to reach.
These legitimate agencies have legitimate processes. A valid agent is an entity authorized by the publisher to sell the magazine based on specific terms agreed upon between the publisher and agent. Contracts are required. Legitimate agents also have access to and honor expiration dates. These other organizations have no regard for expiration dates and will send numerous renewal notices even after a person has sent payment.
These companies hide behind a legitimate agency system and have perverted it. Edmonds says that we've "set ourselves up for this scam," but he's referring to legitimate agent tactics.
Publishers are doing as much as they can, but they need help from authorities.
My instinct is that these people go after higher-priced publications that serve older audiences, preying on their forgetfulness and readiness to send in multiple renewal checks. The Nation and some other publications have stopped accepting checks that they can directly correlate to bogus orders.
I thought the process would be a customer-service nightmare, but people organized themselves on our behalf. The best thing we did was to use our vigilant and consumer-focused audience to speak out to authorities. We ran ads in our magazines and online. We inserted notices in our renewals. We even did a mass mailing to subscribers on file we thought had been hit with the fraudulent mailing. We wrote cease and desist letters to several entities involved. We spoke out about it to anyone who would listen. We presented to the MPA. We urged legal authorities to press forward.
It's still a problem throughout the industry, but we are trying to fix it. I can only hope our efforts helped.