FierceMarkets Acquires Digital Pub StorefrontBacktalk

Deal triggers the formation of a new retail media group.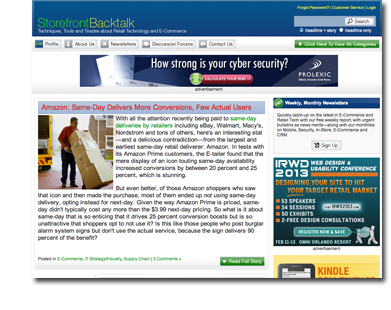 FierceMarkets, a division of b-to-b media company Questex, that targets a variety of market verticals, has acquired StorefrontBacktalk, an online product covering the retail technology industry.
The deal is unique for FierceMarkets in that the company has traditionally launched into a market, but FierceMarkets president Maurice Bakley says the brand gives the company a quicker entry into the market with an established audience.
The deal also triggers and solidifies the formation of a new retail media group. "The audience and editorial talents of StorefrontBacktalk, combined with FierceMarkets' proven marketing platforms and digital media DNA, will bring benefits for both readers and marketers in the Retail space," says Bakley in a statement. "We look forward to building out a strong offering of media properties to serve this dynamic industry."
StorefrontBacktalk founder Evan Schuman, along with the brand's editorial team, will make the transition to Questex and FierceMarkets as a result of the deal. 
Meet the Author
---