Field & Stream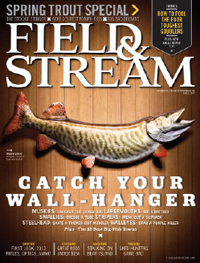 Ozzie Winner: Best Cover, Consumer Above 250,000 Circulation
It took a trophy fish to create a trophy cover for Field & Stream in 2012. Design director Sean Johnston not only celebrates the outdoorsman magazine's April cover, but also the team collaboration required to put it all together.
"This was a team decision, it was something we controlled, and that's the beauty in it," Johnson says.
The challenge was to create a package that delivered relevant content that could kick off one of the magazine's most important seasons—trout fishing. To do that, Johnston and his team put themselves in their reader's perspective, meaning they wanted to evoke the excitement of the upcoming fishing season and challenge readers to catch their own trophy fish. This required pulling numerous trophy fish out of "epic crates," photographing them, and deciding which one worked best.
Constructing a cover package with a new narrative was formidable task. "We wanted something simple. A vibe that this could be in your den, we were trying to show off the biggest fish we could," says Johnston. And that they did, the cover features a 50" Muskie backed by lodge-style wood paneling, and is definitely reminiscent of something you might see in sportsman's den or man cave.
The April cover is somewhat of a departure from Field & Stream's typical appeal. "This was a different approach, in the past they would have shown a guy holding a fish, but we wanted to kind of show the end result," says Johnston.
Meet the Author
---