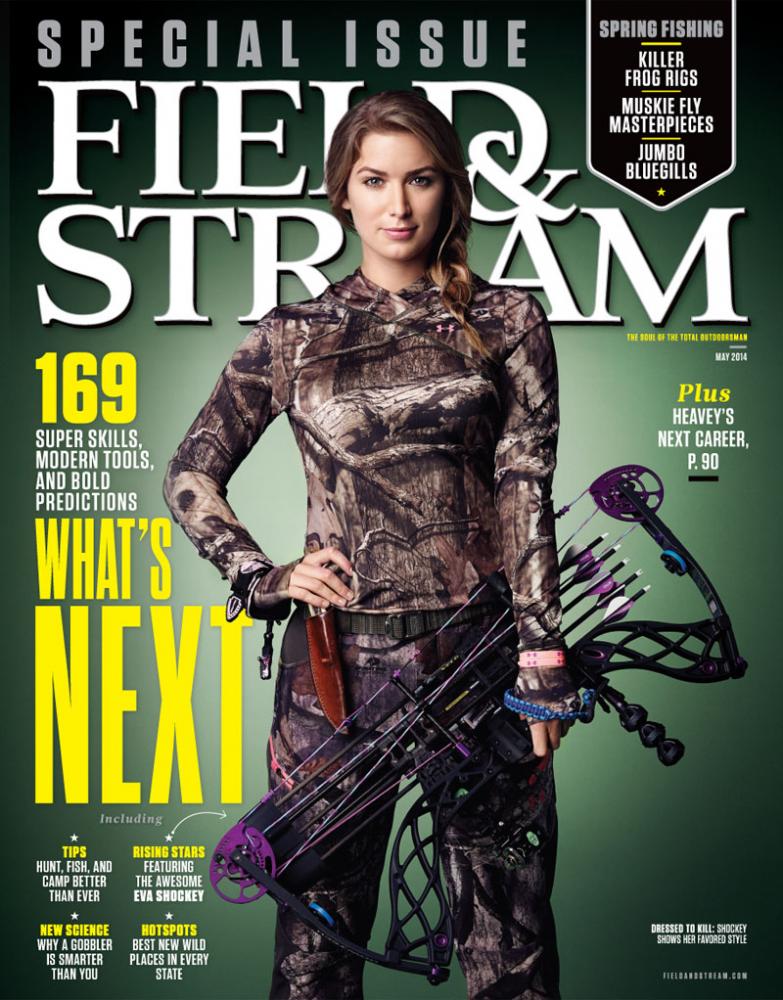 Like a lot of covers Field & Stream has put out over the last 119 years, the May issue of the magazine shows a camo-clad hunter, bow in hand, looking ready to prowl off into the wilderness.
It's a departure from the norm though—for the first time since 1974, and only the second time in the magazine's history, that hunter is a woman.
The appearance of Eva Shockey, a hunting community celebrity and costar of an Outdoor Network TV show, generated a lot of buzz for Field & Stream, so we talked to Anthony Licata, editorial director of Bonnier's Men's Group, about the decision to run with it and how they've been able to turn that into lasting gains for the title.
—
FOLIO: Take me through the discussions in your initial editorial meetings when you were considering putting Eva on the cover.
Anthony Licata: The theme of the issue is 'What's Next?' so the cover package is looking at what the latest trends are in hunting and fishing with an eye toward the future-what's changing, what are we going to be talking about in the next five years. One of those trends is the growth of women hunters, fishers and shooters. The ranks of female hunters have grown by 10 percent from 2008 to 2012 and it's a growing segment of our audience.
FOLIO: Has that growth translated into a demographic shift for you? What are the magazine's demographics and how did that play into the decision?
Licata: The vast majority of Field & Stream's readers are men [print readership is 84 percent male, according to GfkMRI numbers from Fall 2013 later provided by Licata], however, we've seen a growth there in print and an even bigger growth online. Over the last 12 months, FieldandStream.com has grown its audience by double digits, with the percentage of female unique visitors growing by 39 percent, whereas male users are growing by 22 percent.
Anecdotally, even if a subscriber is a man, a lot of times his wife reads the magazine and we get a fair amount of interaction from female readers through letters to the editor and traditional methods, and also through social media and online.
FOLIO: Were you looking to reach that new, growing female audience with this cover?
Licata: Absolutely. Our circulation is 1.25 million and is predominately a subscription-based business. That's what we depend on for consumer marketing. The newsstand is important, but not as important [as subscriptions]. But something we factor in with the newsstand is a desire to reach that audience that maybe isn't fully committed, isn't a subscriber, might be new to the sport. We felt by putting a woman on the cover, we'd have a chance to reach out to some of those women outdoorsmen.
What we didn't do was make a big statement and big splash and put a woman on the cover just for the sake of putting a woman on the cover. This was part of a larger story looking at current trends and where the sports are going. It fits. Not only would it possibly attract new people, but it's core to what our readers are seeing.
FOLIO: Once you realized it was gaining steam on social and traditional media did you promote the issue any differently?
Licata: Eva Shockey has a television show, a good social media presence, she has her fans, so we worked closely with her and her team to promote it social and get it in front of a new audience.
It's not something we do very often. Most of our covers are animals or locations or gear and when we do feature a person, that person usually stands for an idea and they're not necessarily a celebrity.
It was a big success on social media though. We had hundreds of shares and thousands of likes and got an additional 10,000 Facebook followers for the brand since it came out. And on Twitter there's been a social campaign to take a selfie holding the cover.