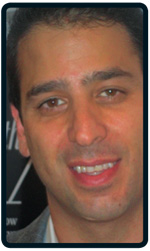 The front-line leader of the integrated sales team, DiFilippo led the Atlantic to a second straight year of double-digit growth and helped bring print back.
Atlantic Media predicts another year of multi-million dollar profit in 2011, and so far indications are that the company is making all the right investments to ensure that growth. Felix DiFilippo, associate publisher, explains: "We acquired the In Focus Blog, previously known as Big Picture, from Boston.com, and continue to invest in the Atlantic Wire. We brought on Alexis Madrigal, from Wired, and he's taken the tech channel to over a million unique viewers and doubled his Twitter followers in the six months that he's been here. And we'll continue these strategic investments in talent on the editorial side, to build our business."
The salespeople sell ads and sponsorships across all of The Atlantic offerings, and it's working out well, as DiFilippo explains, "The top 70 percent of our advertisers buy integrated packages."
DiFilippo says why he believes The Atlantic is on track to continue their revenue growth: "Our magazine has done very well, but we are really focused on scaling our digital business and seeking new revenues there. The Atlantic Wire will be a big investment for us in 2011. We've gotten better each year with monetizing our inventory, building out our core franchises like the Aspen Ideas event and the Brave Thinkers awards. Each year we`re introducing another one and we're getting better at selling these programs."
A key move for The Atlantic was to invest in talent, on both the editorial and the advertising sales sides. When the company decided to restructure around a digital-first strategy, it needed to build a marketing services operation, expand live events and maintain a relentless focus on hiring top talent.
That talent hunt continues. "The company aggressively seeks people with the right mindset, and that continues to be the case for us this year," says DiFilippo. "It's less about experience now… we're at a point where we changing so much about what we do that I'd rather have younger and more curious salespeople. That doesn't mean you have to be a fresh-out-of-school digital native, just that you`re actively thinking about what's next."
VITAL STATS: In 2010, online traffic grew 34 percent, with TheAtlantic.com and TheAtlanticWire drove a monthly average of 5 million unique visitors.