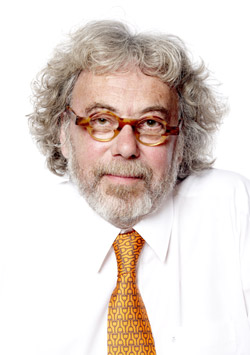 Felix Dennis—entrepreneur, founder of Maxim, publisher of the Week, poet, author and, depending on who you believe, would-be murderer—has a new book out. It's called How to Get Rich—an unlikely entrant into the frothy, cluttered self-help/motivational category.
I recently conducted a wide-ranging interview with Dennis on the state of the magazine industry, and his place in it, which will be published on FOLIOmag.com later this week.
In the meantime, here's a somewhat juicy excerpt about a deal Dennis is trying to close—buying the rights to a "well-known" American magazine. Apparently, he's just hammering out the terms of what he calls "schmuck insurance."
FELIX DENNIS: I'm sorry we had to delay this call. We're in the middle of a deal.
FOLIO:: Oh you are?
DENNIS: Yeah we are.
FOLIO:: Can you discuss it at all?
DENNIS: We're trying to buy the worldwide rights of a well-known American magazine while leaving the North American rights with the parent company. Obviously, because there are no contracts, I can't tell you what the magazine is but we're busy doing that. We sort of think it's a win-win for everybody. This is a big company, a sensible company, but they do not engage in much worldwide activity. They've got a good title that will do well in places like India, China, Russia. But they need someone to go and do it. And we're not going to do it unless we own it. And that means shared ownership. And it has happened before. I still share ownership of Computer Shopper, if you can believe it. Computer Shopper's made tens of millions of pounds over the years. I own the rights to Computer Shopper in Britain and elsewhere. Yet the North American rights were held for years by Ziff Davis. I honestly don't know if it's still published over there or who owns it. So that did work. And then there was Stuff, which I launched after Maxim here. And I only had the North and South American rights to do that, because I had sold Stuff worldwide to a company in Britain called Haymarket who are big publishers over there. So they published Stuff all the way around the world, and I published it here in America.
FOLIO:: Well, you've got my wheels spinning now.
DENNIS: You won't be able to guess, I promise you. Well, I don't think you will at all. It's one you wouldn't expect me to be involved in. But then I have published a very wide variety of magazines. And it's a perfectly respectable and totally tedious magazine in a way. It's not one that will get your juices going. It's just that I know the magazine does well here—very well, and has a lot of money over the years. And it's in an excellent market, that is, it's not in a declining market. And it would just do well around the world if money was invested in it abroad. And not only in its paper form, but in its electronic form and its digital form around the world. And it needs that investment. So we're hoping to be able to eventually conclude a deal.
FOLIO:: What's the timeframe?
DENNIS: I would expect this deal to be signed within the next two months. I suspect the American parent company will insist, and I suspect rightly, that if we flip this magazine within the next five or ten years, that if we sell it off for a huge profit, that they get a piece of that, even though they've sold it to us. I believe that in American hedge fund parlance, and in venture capitalist parlance, this is called 'schmuck insurance.' [Laughs] So they don't look like a schmuck. [Laughs.] I love that term—I had never heard it before. So that's what we've been busy doing.
[EDITOR'S NOTE: The full interview with Dennis will be published on FOLIOmag.com later this week.]