Feeling Relish Heat, Parade Launches Health Mag

HealthyStyle to debut in 46 newspapers.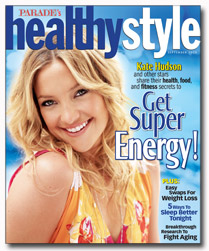 Facing increased competition from the upstart Relish—and operating in two hemorrhaging industries—Parade Publications, publisher of newspaper-distributed magazine Parade, is set to launch a new title, HealthyStyle, on September 17.
The midweek magazine, with a circulation north of 8 million, will be carried by 46 newspapers, including Los Angeles Times, Boston Globe, Chicago Tribune, Dallas Morning News, Newark Star-Ledger, Atlanta Journal-Constitution, the Miami Herald, Seattle Times/Post-Intelligencer and the St. Louis Post-Dispatch.
Parade plans to publish HealthyStyle in September and November, going monthly in 2009. The debut issue is 24 pages and will carry 10 ad pages, the company says.
Parade publisher Randy Siegel views HealthyStyle as a brand extension of Parade, and says the company "wouldn't have made this investment if we didn't believe in the long-term viability of newspapers."
Through June, advertising pages for Parade were down about 1 percent over the same period last year, according to the Publishers Information Bureau. Parade's PIB advertising revenue—some $322.6 million—was up 3.7 percent in the first half. The two-year-old Relish, by contrast, saw its ad pages increase more than 29 percent with advertising revenue ($62.3 million) nearly doubling its first half output in 2007.
In July, the Publishers Group of America, which publishes Relish, announced it will increase the magazine's circulation from 12 million to 15 million effective with its January 2009 issue.
Meet the Author
---