Fast-Tracking a Tablet-Optimized Site

Vibe launches swipe-able, mobile news product.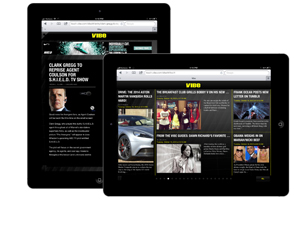 With the rise of tablet and smartphone interaction with website content, publishers have been busy upgrading sites to be optimized for mobile, which these days means functionality must make sense in a swipe-able world.
Vibe has been working with Onswipe, a platform that renders digital content into a magazine  app-like experience that's specifically built for tablets and smartphones.
Vibe is using the platform to specifically feature its daily web content, a move that's designed to leverage the growing numbers of readers coming to the site from an iPad or iPhone. "We're pretty unique that roughly half of our web traffic is tablet and smartphone-based and we needed a solution that addressed that," says Daniel Murphy, executive director, products at Vibe Media.
Vibe editors curate the day's content and surface what they think readers would be most interested in seeing. "We have other content formats—video, photo galleries and this platform addresses those, but what we think people are using the tablets for is to consume our newest content when it comes out," adds Murphy.
Advertising is handled by both Vibe reps and Onswipe (the cost for using the platform is free), which has developed its own magazine-like, full-page ad format that it sells on behalf of the publisher. Revenues from sales are shared. "It's a revenue share based on the larger rich media formats that they have and sponsorship opportunities that we have on our side," says Murphy. "From our perspective it's nice because if you have a legacy print product and the creative comes in that format it's easy to translate that to this experience—you can use the same creative."
Murphy says his team hardly touches the final product—content from the site's various channel verticals is fed to the platform via RSS feeds.
Since the product launched this past spring, tablet-sourced audience numbers have doubled, says Murphy, and smart-phone use has grown month-to-month as well.
Meet the Author
---