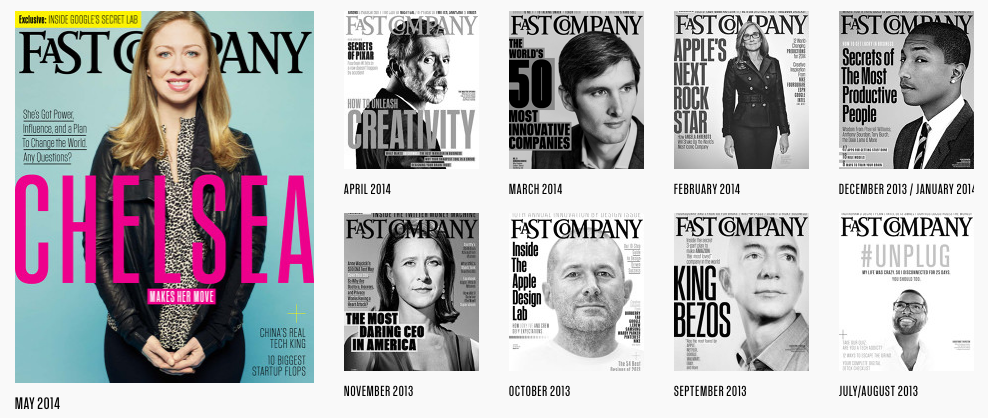 In a mostly typical National Magazine Awards presented in New York May 1 by the American Society of Magazine Editors, the Joe Mansueto-owned Fast Company was atypical in being judged Magazine of the Year for "print and digital editorial excellence and the success of out-of-book programs and services. This was only eight-year editor-in-chief Bob Safian's second Ellie—the rendition of the late Alexander Calder's Elephant stabile—at the helm.
By contrast, the four won by The New Yorker increased 16-year editor David Remnick's haul to 41 and New York Magazine's three raised 10-year editor-in-chief's Adam Moss' total to 27 (not including one for Seven Days in 1990).
National Geographic with two and Glamour and TIME each with one are among the titles well-rewarded, Not so are "rookies" Modern Farmer and surprisingly Cosmopolitan, where the judges never recognized the 30-year work of the late Helen Gurley Brown and the 14 years of Kate White.  It was Joanna Coles in just her second year as Cosmo editor-in-chief who set the precedent in Personal Service.
Although Vanity Fair was winless this year, 22-year editor-in-chief Graydon Carter was inducted into the Magazine Editors Hall of Fame.
The 24 winners below encompass print, digital and sometimes both.
Magazine of the Year
Fast Company
General Excellence (General Interest)
New York Magazine
General Excellence (Service and Lifestyle)
Sunset
General Excellence (Style and Design)
Bon Appétit
General Excellence (Active Interest)
Field & Stream
General Excellence (Special Interest)
Inc.
General Excellence (Literature, Science and Politics
Poetry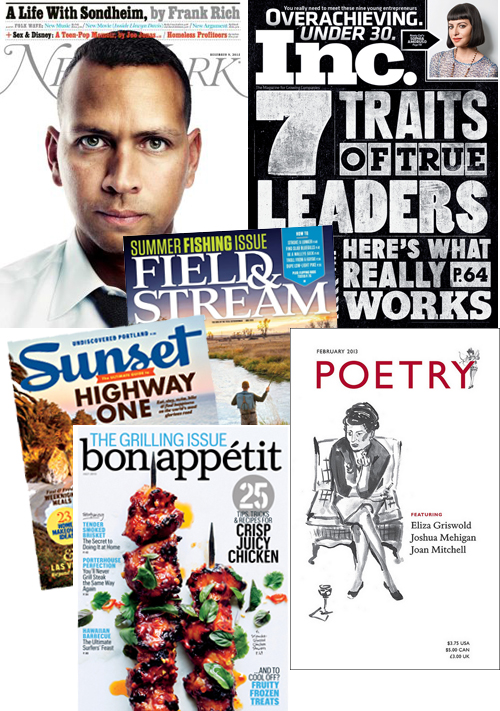 Design
New York Magazine
Photography
Bon Appétit
Single-Topic Issue
Bloomberg Businessweek, on the fifth anniversary of the Lehman Brothers collapse
Magazine Section
Modern Farmer
Personal Service
Cosmopolitan, for The Cosmo Guide to Contraception (September 2013)
Leisure Interests
O (Oprah Winfrey) for Hair Extravaganza! (September 2013)
Website
New York Magazine
Tablet Magazine
National Geographic
Multimedia
National Geographic
Video
Glamour
Public Interest
TIME, for Steve Brill's Bitter Pill: Why Medical Bills Are Killing Us (March 4, 2013)
Reporting
The New York Times Magazine, for Luke Mogelson's The Dream Boat (November 17, 2013)
Feature Writing
The New Yorker, for Patrick Radden Keefe's A Loaded Gun (February 11 and 18, 2013)
Feature Photography
W, for the Tim Walker-photographed Stranger than Paradise (May 2013)
Essays and Criticism
The New Yorker, for Ariel Levy's Thanksgiving in Mongolia (November 18)
Columns and Commentary
The New Yorker, for columns by Emily Nussbaum in the February 25, July 19 and October 7, 2013, issues
Fiction
The New Yorker, for Zadie Smith's The Embassy of Cambodia (February 11 and 18, 2013)