Fast Company to Launch Tech-Oriented Video Network

Influential blogger Robert Scoble hired to lead the effort.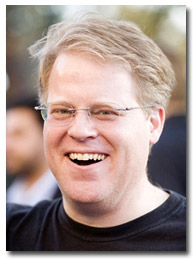 Fast Company, the business magazine owned by Mansueto Ventures, is upgrading its video offerings to a full-scale network with the March launch of FastCompany.TV. Joining as managing director is Robert Scoble [right], an influential and prolific technology blogger and online video producer himself. After the addition of several more personalities alongside Scoble, Mansueto's video production will effectively jump from four to 86 technology-oriented segments per month across six shows in 2008.
The shows will cover a variety of formats including executive interviews, product tests and reviews, a live, streaming segment, and a more lifestyle-oriented show called PhotoWalking—all focusing on the high tech market.
The live segment will be shot by Scoble straight from his cell phone and has a working title of "Mobile Scoble."
Scoble, who bears a striking resemblance to the actor Philip Seymour Hoffman, was an attractive get, says Mansueto Digital president Ed Sussman. He brings with him a "huge rolodex" of technology industry contacts and, if his audience follows him to the video network, approximately 200,000 unique monthly visitors from his Scobleizer blog, which has joined the Mansueto Digital's network of sites, and the one million monthly views he gets from his ScobleTV video series.
"People come to him all the time to look at products before anyone else. He's a beta tester of all these new products," says Sussman. "That's indicative of the type of access he constantly gets. It's like hiring an incredibly well-sourced journalist."
Forbes named Scoble number nine on its list of Top 25 Internet Celebrities.
FastCompany.TV's first-year budget is about $1 million, says Sussman. Sponsorships will be sold on a category or show-exclusive basis starting in mid-six-figures for a one-year commitment. "We're getting more for these sponsorships than anything I've ever sold," says Sussman. "This is not a consumer pitch, it's not being sold on a CPM basis. We're selling an audience."
Meet the Author
---