Fashion Magazines' New Target Audience: 'Recessionistas'

Glossies ease up on luxury-living message.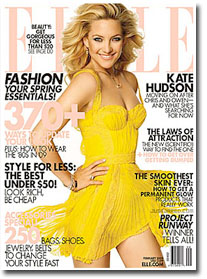 While purchasing a pair of Louboutins seems like a faraway dream for readers of fashion and luxury living magazines, these glossies are put in a tough position.
Already faced with huge ad hit at newsstands, companies like Time, Hachette and Hearst must tweak their editorial message from "fashionista" to "every once-fashionista is now a recessionista"—without straying too far from the prestige, placement and context that (remaining) advertisers require.
Salon.com's Rebecca Traister looked at how glossies are scrambling to downplay the luxury-living message prevalent in years past. Judging from their January to February coverlines, style glossies can be seen making editorial changes. Here are a few examples:
Vogue

January issue headlines: "Change! Yes You Can" with the message of "dress cheap and chic" in the text under this headline…
… in February, the cover bears a top banner reading "Simple Luxuries: Balancing Your Clothing and Beauty."
Lucky
January issue headlines: "Free shopping sprees and discounts galore!" and "Mix and Match Special"…
… in February, coverlines read: "624 Ways to Get the Most Out of Your Look" and "Super Affordable Glamour: Look Polished No Matter What Your Budget."
Elle

January issue headlines: "Fashion: Change Your Look" and "210+ Ideas" [you'll want at every price]…
… in February: "Style for Less: The Best Under $50!"
It appears that Vogue—Vogue!—is recognizing the need for simplistic living, while not going overboard and appealing to readers under the guise of "cheap." Lucky's position as a mag-a-log makes these coverlines risky, as the magazine may be deterring higher-end advertisers and missing the boat when it comes to introducing readers to must-buy brands. And while Elle certainly redirects its editorial message from "change" to "save" from January to February, it remains to be seen whether touting "styles under $50" is an appropriate angle for Elle.
The trick is to tone down luxury-centric editorial, not redefine its audience.
Meet the Author
---