Fashion Faux Pas: Us Weekly Readers Charge Anna Wintour with 'Life Sentence'

Vogue's prickly top editor blasted for 'busy' orange outfit.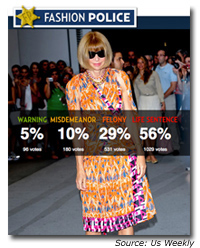 Us Weekly editors have reached across the fashion/celebrity magazine divide to report Vogue's high pharaoh of fashion, Anna Wintour, in to—wait, yes—the Fashion Police.
Fashion Police, one of Us Weekly's departments where comedians and fashion experts weigh in on celebrity outfits with witty and usually scathing commentary, has also made its mark on UsMagazine.com as an interactive slideshow that allows its readers to be the judges. This time, readers' crosshairs were targeted at Wintour, blasting the orange dress that the devilish editrix wore to the premiere of The September Issue, A&E's new documentary film on Wintour and the making of the magazine's big fall fashion issue.
Online voting was divided into appropriate categories: Warning, Misdemeanor, Felony and Life Sentence. The overwhelming majority (56 percent, or more than 1,000 votes and counting) charged Wintour with a Life Sentence.
One of the magazine's "Top Cops," comedian Jeffrey Giordano, wrote, "Is she going to Sunday night bingo?" Another, AOL News senior producer Buck Wolf, wrote, "The only thing busier than she is? This outfit."
While Wintour isn't a stranger to being called out on her fashion choices (namely, her signature pair of sunglasses), UsMagazine.com's reader feedback makes it personal. But hey, it's probably karma for an editor known for her perpetually harsh style commentary.
Meet the Author
---