Ex-Time Out Editor's Web Venture Unveiled

Farnham looking for an enterprising new hire.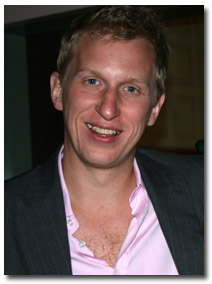 Former Time Out New York editor Brian Farnham has been tight-lipped about the Internet start-up company he left the magazine late last month to help launch. Today, though, I received this e-mail from Farnham via LinkedIn. His company is an online news information site called Polar News. And apparently, they're hiring.
The new position—a production manager—is an interesting one. It seems to combine editorial, marketing and circulation responsibilities.
Interested? See the e-mail below.
From: [REDACTED]
On Behalf Of Brian Farnham
Sent: Monday, February 25, 2008 12:18 PM
To: Jason Fell
Subject: We're hiring!
If you have a moment, I'd appreciate your help. Please take a look and forward this job on to anyone you think would be interested in the position, or anyone else who could help me find a great candidate.
Thanks for your help!
-Brian
Company: Polar News
Job Title: Product Manager
Description: If you…
— Get Web 2.0
— Want to work in a flexible entrepreneurial environment
— Understand the term "hyperlocal" and its potential
— Love building businesses from the ground up
…then this may be a job for you:
A well-funded startup backed by Internet Pioneers You've Heard Of is looking for a Product Manager.
This person will OWN a specific vertical in a new online news and information site—conception, development, execution, reporting, and measurement.
The PM will report to the Vice President and work closely with all other departments—content, engineering, marketing, etc.
Major Responsibilities:
— Build and manage a product roadmap
— Innovate, develop and execute strategies
— Define user requirements for new features, incorporating cross-functional input, research, usability studies and competitive analyses.
— Define and implement feedback and reporting requirements for all products to ensure that they can be optimized based on quantitative and qualitative data.
— Work closely with the engineering team on technical implementations
— Work cross functionally and take a hands-on role when needed (Editorial, Design, Marketing and Engineering.)
— Identify business development opportunities and initiate meetings and potential deals
— Drive projects from birth to adulthood
Experience / Skills / Profile:
* BA/BS required, ideally in a business, marketing, or computer science/engineering related field.
* At least one year of product management experience with strong social networking and Web 2.0 knowledge.
* Proficiency in HTML and Photoshop are a plus.
* Strong technical background (e.g., web standards, design and usability, and common web and application architectures).
* Excellent organizational skills including ability to build effective working relationships.
* Proven track record of setting aggressive goals and meeting them, with a style characterized by personal motivation, organizational skills and communications effectiveness.
* Knowledgeable across multiple functional areas – Product Management, Engineering, UI, Sales.
* Juggle multiple tasks and projects simultaneously in a deadline-oriented environment.
* Strong aptitude for determining the optimal way to position products in the market.
* Experience managing budgets and demonstrating ROI..
* Experience in online news, media, services preferred.
Competitive compensation package including base salary, full benefits, performance and start-up based incentives.
Meet the Author
---