Family Circle Uses Refresh to Continue Growth Momentum

New features, design among changes.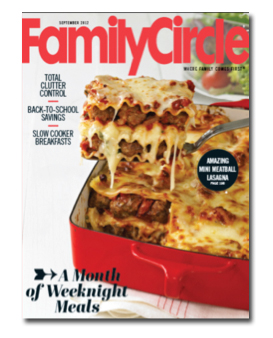 Meredith's Family Circle magazine has seen an 8 percent increase in the number of single copies sold at newsstands, according to the Audit Bureau of Circulation's first half Fas-Fax report from January to June, and the title has even increased its rate base in the last year, going from 3.8 to 4 million. To continue to grow, the magazine is undergoing a brand refresh—incorporating new monthly editorial features, columns and design elements.
"Since we have such an enormous audience, it's important that we keep up with trends," says the magazine's editor in chief, Linda Fears. "We conducted focus groups last fall and we learned what they loved about the magazine and wanted to see more of, and what we weren't doing that we needed to add to the mix."
There are 10 new columns incorporated into the magazine and the refresh features more open layouts and new typography.  The publication will also be including more video tutorials on its website that will be linked to its print magazine.
"Part of the design of making it airier, cleaner and a bit more sophisticated plays into what we were hearing (from readers)," says Fears. "We feel like we understand what moves on the newsstand, and what readers are looking for."
Along with the added editorial content and new design, the publication has also secured more and different advertising support—the first two pages of the magazine include a note from the commissioner of the NFL alerting Family Circle readers, who primarily consist of parents of teens and tweens, to the possible dangers surrounding concussions. Additionally, the September 2011 issue was the magazine's biggest edition for ad pages in about a decade, and the September 2012 edition has held steady, garnering about 133 ad pages.
"We were 3.8 million for about the last six years," says vice president and publisher Lee Slattery. "In one of the most challenging of economic times we're one of the few magazines that took our rate base up last year. Its unbelievable that we took the bold move with the January 2012 issue to go to 4 million. Any of our advertisers can say they're enjoying a nice bonus with our ABC statement. There are subtle cutbacks in some of the lifestyle magazines and we're not cutting back, we're investing in this magazine."
Meet the Author
---