2008 FAME Awards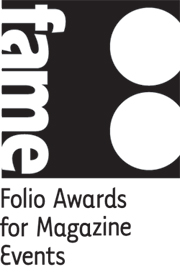 FOLIO:'s Awards for Magazine Events
Call for Entries! Submit at
www.fame-awards.com
Entry Deadline: January 27, 2009.
WHAT ARE THE FAME AWARDS?
The FAME Awards recognize the best of the best in magazine events. Whether your magazine produced a conference, organized a non-profit event or drove a successful custom advertiser event this year, the FAME Awards spotlights the fast-growing event initiatives in the magazine industry for all publications – consumer, b-to-b, association and regional.
Now in its fourth year, the FAME Awards have honored magazine-powered events ranging from huge national marketing campaigns, to intimate VIP events. It's the only program that recognizes the power and contribution of live events in the publishing industry.
Click here to view the 2008 FAME Award-winning events!
WHO IS ELIGIBLE?
The FAME Awards is open to all magazines (B-to-B, consumer, association, non-profit) or agency on behalf of a magazine that produced an event which occurred between January 1 and December 31, 2008.
HOW TO ENTER
The online entry system is open at www.fame-awards.com. 
The 2009 FAME Awards entry process will be exclusively online.
Each entry is $125, and $75 for additional entries.
Call for Entries! Submit at www.fame-awards.com
Entry Deadline: January 27, 2009.
The entry process is just four easy steps:
1. Choose the category you wish to enter (category descriptions listed below.)
2. Enter in magazine and event details and answer the entry questions (listed below.)
3. Upload supporting photos, renderings and/or video(s).
4. Submit your entry fee payment online.
ENTRY QUESTIONS
Q.1. Please enter your magazine's mission statement.
Q.2. What were the magazine's primary objectives for this event? How does it tie in to your magazine's mission?
Q.3. Who was the target audience for this event?
Q.4. Describe the event experience through the eyes of the target.
Q.5. Please describe the important factors that were meaningful to the success of the program. Was it unique? What was exciting and new? What technology was leveraged?
Q.6. Please describe how the event met or exceeded its objectives/expectations?
Q.7. Please include quantifiable results such as attendance numbers, media hits, PR impressions, survey results, post-event analysis, impact on sales & circulation, etc.
AWARD CATEGORIES
To determine the categories in which your event(s) best fit, please see the category descriptions below. An event may be entered in multiple categories, if applicable.
Categories include:
1. Best Awards/Recognition Program
Awarded to the best Awards or Recognition Program produced by a publisher. Judges will score the production quality, creativity, and execution.
2. Best Conference
Awarded to the best publisher-produced conference without a trade show or exhibition component. Judges will score overall attendee experience, session content quality and speaker quality, marketing, and on-site activities.
3. Best Conference & Expo
Awarded to the best event produced by a publisher that balanced its session content with the needs of exhibitors. Judges will score the overall attendee experience, impact on exhibitors, on-site networking activities, marketing, and results.
4. Best Consumer Trade Show
Awarded to the best publisher-produced consumer show. Judges will score on attendee experience, effectiveness of mass marketing efforts, value of exhibits and demonstrations, impact on exhibitors and results.
5. Best Custom Advertiser Event
Awarded to the publisher that took a client(or clients) beyond the printed pages with an event program that connected an advertiser with readers. Judges will look at creativity, overall idea and execution, as well as impact on advertiser and attendees.
6. Best First-time Event
Awarded to the best overall new event program (not refreshed efforts from last year or evergreen initiatives). Judges will look at overall idea, execution, and results.
7. Best Magazine Launch Party
Awarded to the magazine that played "host with the most"with a launch party that was exciting, fun, outrageous, and dead-on relevant with the publication. Judges will look at creativity, execution, innovation and attendee experience.
8. Best Non-Profit/Charity Event
Awarded to the best event program that impacted the community. Judges will look at the integration of magazine brand, content, and philanthropic causes, as well as the overall event itself and the totality of the program.
9. Best Online Event
Virtual has met reality. Awarded to the best cyber event that connected a magazine or an advertiser with readers online. Includes webinars, podcasts, webcasts.
10. Best Regional Magazine Event
Awarded to the best regional publication event including launch parties, galas, community fundraisers and custom-advertiser events., designed to serve a specific market. Judges will score on creativity of concept and production, local marketing efforts, advertiser integration and attendee experience.
11. Best Series of Events
Awarded to the magazine-powered event initiative that went beyond the one-shot and took over multiple venues or markets. Includes wine tours, mobile programs, retail events, street marketing, concerts.
12. Best Special Event
Awarded to the best celebratory event that raised a glass and toasted a special occasion for a magazine. Includes issue-related theme event, anniversary event, redesign event.