Fall Fashion Equals Social Media Engagement

Print's big month led to more engagements in October for some brands.
September single-copy sales were, for the most part, very forgettable this year. But social media was a bright spot for fashion brands. 
Vogue had a nice September on the publishing side, selling more ad pages than than any other brand in its competitive set, with 631 (down 4.5 percent from 2013, but that was a record-breaking year with 661 pages sold). That level of success was echoed on social meda. According to min's Social Media Boxscores, using True Social Metics, Vogue led the fashion segment in reader engagements (engagements are comprised of likes/favorites, post comments, shares/retweets) in September and October. Its little sister Teen Vogue was second in September but fell off significantly in October.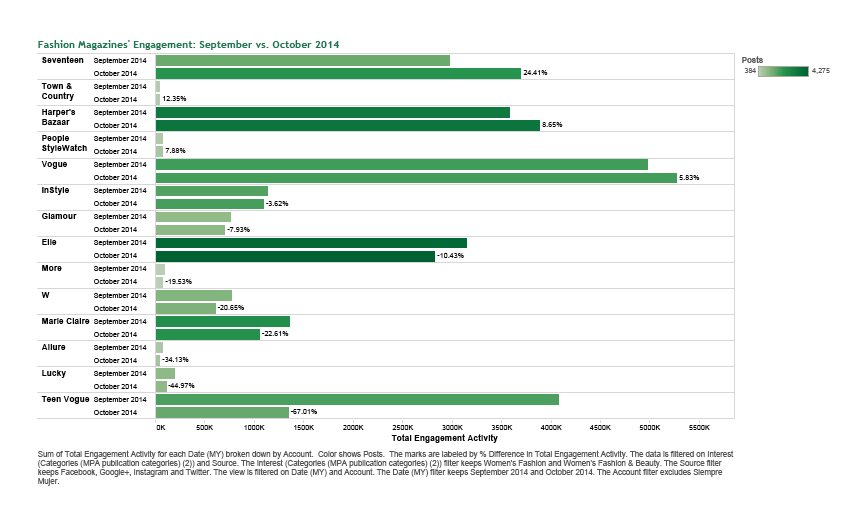 (Click to enlarge and see more graphs)
Unlike Teen Vogue, whose social engagements fell  67.01 percent in October versus September, five brands carried September momentum into October–Vogue, Harper's Bazaar, Seventeen, Town & Country and People Style Watch. 
Interestingly, Seventeen had the biggest jump, racking up 24.41 percent more engagements in October versus September. Perhaps Seventeen stole some of the attention of Teen Vogue's readers?
Elle worked the hardest in September and October, posting more content than any other brand, but it didn't seem to pay off given that its engagements dropped by 10.43 percent. While Town & Country may have a modest following in comparision to the other brands in this set (38,000+ on Facebook), its minimal post frequency led to 12.34 percent more engagements and the brand grew its following by more than 4 percent–the largest percentage gain in this set. 
Meet the Author
---