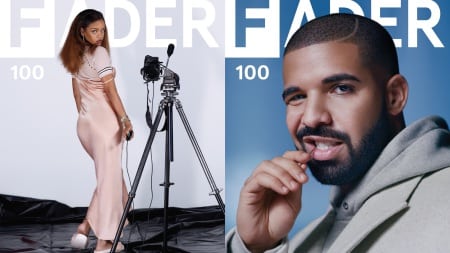 To commemorate the launch of its 100th issue, The Fader is giving back to music fans by releasing its entire archive as a free digital download. "The Fader 100," including the 256-page 100th issue, is now available for download in PDF format from peer-to-peer file sharing technology company BitTorrent.
Through the form of a BitTorrent Bundle, The Fader is giving away every issue in its 16-year archive not only as a nod of appreciation to the readers, artists and staff who have supported the music, style and culture guide since its first issue in 1999, but also as a means of exposing its print history to a wider, more digitally-oriented audience, says Andy Cohn, president and publisher. After submitting an e-mail address, readers can access all 5 GB worth of free content.
The Fader selected BitTorrent because of the website's established presence as a creative space in the music world, its ability to transfer large amounts of data with ease, and its active user base of over 170 million.
Prior to launching the Fader in 1999, co-founders Jon Cohen and Rob Stone established creative agency Cornerstone, which has worked on projects with BitTorrent in the past.
"BitTorrent fosters a creative culture," says Cohn. "Based on our existing relationship with them, it's the right audience for us."
While other magazines such as Esquire and Rolling Stone have offered their digital archives as part of a subscription-based service in the recent past, The Fader insists monetization was never a motive.
"Our brand has evolved, and reaching 100 issues, especially in 2015, is a milestone," says Cohn. "We wanted to reinforce our survival as a healthy, relevant, music-specific print magazine and expose our digital audience to our backstory in print."
"We want to give back to music fans," continues Cohn. "Sure, there were ads sold, but this was never positioned [as a commercial venture]. It's purely editorial."
Alongside growth in the The Fader's web audience—online traffic has increased 316 percent over the past year—print circulation is at 115,000, including 58,500 newsstand copies sold and 39,000 print subscriptions, according to the magazine.
"Over the past three or four months, we've seen a big upshot in print, including a steady increase in single copy sales and print subscriptions," says Cohn. "The growth in web traffic is, in turn, growing our print audience."
Any concerns over BitTorrent's past reputation as a platform for illegal music sharing were not considered.
"They've done a lot recently to play by the rules and dismiss any negative connotations," Cohn adds.
The 100th issue contains 109 ad pages (the most in a single issue to date) and 147 pages of editorial content, sandwiched between dual covers featuring artists Rihanna and Drake as well as a newly-redesigned logo, the result of a collaboration with New York-based design studio Everything-Type-Company (ETC).