Fader Forms Media Company

Publisher looking to unify its print, online, music and film-related properties.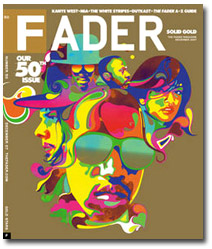 Music magazine the Fader today announced the formation of Fader Media, an umbrella organization for current and future Fader-related products and properties.
At its launch, Fader Media includes Fader and its accompanying Web site, indie/alternative music site theTripwire.com, hip-hop site 1200Squad.com, the Fader music label and Fader Films. Additional products are under development, the company says.
Also as part of the announcement, Fader has announced that
publisher Andy Cohn has been promoted to vice president and group publisher. According to Cohn, "by combining all of these exceptional properties under one moniker we're able to effectively build scale through niche. Each lives and breathes on its own-combined we have an arsenal of incredible talent and loyal readers, benefiting us and our advertisers."
Meet the Author
---