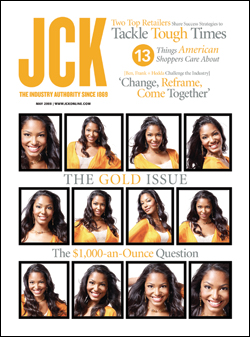 Issue: May 2008
Frequency: Monthly
Launched: 1869
Circ: 175,000
Editor-in-Chief: Hedda T. Schupak
Publishing Company: Reed Business
Information
Creative Director: Todd Gast
Each May, jewelry and watch industry magazine JCK puts out one of its most important issues of the year—a gold-themed, pre-show issue to usher in the annual JCK Show Las Vegas—"one of the largest jewelry shows in the world," according to creative director Todd Gast.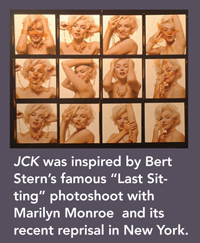 In creating this year's cover, the magazine's starting point was photography produced by IBGM, the jewelry and gemstone export council of Brazil. Gast pulled a contact sheet of digital images from the shoot and showed them to consultant JC Suares, with whom he had worked on the magazine's redesign and cover concepts. Suares suggested he research photographer Bert Stern, who recently reprised his legendary Marilyn Monroe photoshoot "Last Sitting" with actress Lindsay Lohan for New York magazine. Gast, who says he has "been trying to bring more movement and freshness to JCK's covers," was drawn to the rawness, freshness and movement in the frames of Monroe.
He decided that applying the contact sheet concept to this cover would help capture the model's youthful spirit and exuberance, in "stark contrast to using a stagnant single image." But translating the concept into a cover that "sings" took work. "Although old school in this digital age, I pushed the contact sheet idea and used a thick black border on each strip," he says. "By cropping each image to create a hierarchy, separating each frame with white space and giving different widths to each frame, I put a personal touch on the finished product."
It also took more work in production. "There were a lot of images to color correct and it took some time for imaging specialist Frank Romano to complete 12 images within our deadline, keeping color and quality even throughout."
DESIGNERS' COMMENTS
"To me the pictures say little about the actual content of the magazine and I'm unsure of the reasoning behind having all the photos. I don't think all the small photos are making the impact that one great photo, or amazing typography, could. The colors are fresh (I'm a fan of grey instead of heavy black) and the layout is unique. However the layout is lacking the hierarchy that could really make it work."
Crystal Madrilejos | Art Director | Wise Group

"These are great photos of a gorgeous woman—but one large photo of her would have made a much stronger cover and would have allowed the reader to see the gold jewelry she wears on her neck and ears. That visual is the key to making an instant connection to cover line, 'THE GOLD ISSUE.' Overall, the cover feels generic and could be improved by modernizing the title. I would be interested in seeing the JCK set apart in a colorful box or in a banner, with one strong image."
Gail Ghezzi | Art Director | OnEarth Magazine

"I love the series of shots together. The simple gold color picked up from the blouse ties the logo in nicely. I also enjoy the headlines on top, very nicely woven together. This really feels consumer for a trade publication. Clean, simple and classy. Well done!"
Steven Dixon | Group Art Director | Lebhar Friedman's Retail Group
What do you think? Take the Face Up survey and get the chance to win an iPod Shuffle!