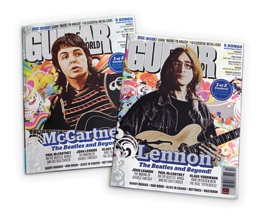 MAGSTATS
Frequency: Every four weeks (13 issues a year)
Launched: 1990
Circ: 180-200k
Publishing Company: Future US
Design Director: Alexis Cooke
To pull off any cover honoring Beatles legends John Lennon or Paul McCartney, words like "monumental" and "iconic" need to be part of the conversation. Guitar World editor-in-chief Brad Tolinski and design director Alexis Cook expanded that conversation in order to avoid typical rock stereotypes for their magazine's holiday issue—and expanded their vision to give both Lennon and McCartney the front-man treatment on each of their own covers.
Tolinski emphasizes that the double covers were meant to reflect the solo careers of Paul and John. "There's some collector's mentality around this," he explains,  "but in this particular case, it also made editorial sense. This issue wasn't about The Beatles, it was about their solo careers, so it seemed a little disingenuous to put them together on one cover."
Artistic Guesswork
The first step to creating a fresh cover was finding photos of the icons that were unique, but felt like they made sense together. With Apple having cornered the market on photos of The Beatles, and with the unique challenge of needing two images that featured guitars, Guitar World was limited in its choices. Once they'd settled on two distinct photographs, Cook turned to illustrator Sean McCabe to bring some cohesiveness to the images. The grainier, black-and-white picture of Lennon required some intensive hand-coloring to make it jive with the McCartney photograph, and some deliberate use of cropping and scale was executed to make sure the photos worked well as a pair.
The covers' decorative flair, a contemporary reference to a psychedelic era, adds another element of visual connection to the two personalities. But it wasn't done without some hesitations. "There's a thin difference between making something look cool and classy as opposed to some sort of truck bumper sticker," Tolinski says. "So instead of going with a gaudy rainbow, we tried a metallic silver foil."
The foil process was something new to the magazine that brought unique challenges. "You create a layer that highlights where you want the foil to land, and you print the ink on top of it," explains Cook. "Since you don't get a proof, from a production standpoint, there's some guesswork in what that effect will be."
The end result is two covers which, Tolinski and Cook hope, put an unpredictable twist on the usual take on the Lennon/McCartney duo. "We wanted these to feel monumental—they're obviously music icons, and we wanted to represent that," Cook says. "But we also wanted them to feel different from other John Lennon covers on the newsstands right now. Those might take a somber approach. We wanted this to feel celebratory."
The 3D image is fitting for the July/August cover since it marks the last of Advanced Imaging's print issues. The magazine is migrating towards a primarily digital format. "I think it went out with a bang—with great images and great stories," says editor Barry Hochfelder.

DESIGNER'S COMMENTS
"The images treated as photo illustrations are a great solution to stock photos of Paul and John. It makes for a fun cover and evokes that 'Psychedelic 60s' art which was common on The Beatles' album covers and concert posters. I'm not a fan of the dark blue and definitely not a fan of the 3-dimensional, upper/lower type treatment of the names Lennon and McCartney. It's too heavy and too obvious. These guys are like Elvis or Jesus: so recognizable and so deified that I wonder if you even need their names on the cover at all. Yet, I understand that this is a magazine cover in need of cover lines. I would have like to have seen their names incorporated in to the illustration: there is a disconnect from all the type at the bottom and the rest of the cover."
Marc Davila
Associate Art Director  •  Travel and Leisure Magazine

Have a unique "cover" story? Contact executive editor Matt Kinsman at mkinsman@red7media.com.