FaceUp: Associations Now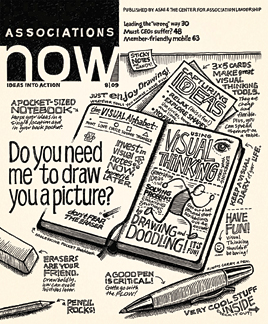 MAGSTATS
Issue: August 2009
Frequency: Monthly
Launched: October 2005
Circ: 22,500
Publishing Company: American Society of Association Executives & The Center for Association Leadership
Editor-in-Chief: Lisa Junker
Art Director: Beth Lower
Doodles and napkin Sketches are fun but do they work for a magazine cover design?
When Associations Now turned to illustrator Mike Rohde to create its August issue cover, they relinquished some creative control. "For a typical issue, we would hire an illustrator to create a cover concept that we brainstormed, or work directly with them," says art director Beth Lower. But for this, Lower decided to bring on one of the illustrators referenced in Mark Athitakis' cover story, "Do You Need Me to Draw You a Picture?"
After reviewing a number of portfolios, Lower chose Rohde based on his "use of type and the monochromatic aspect of it," she says. While the magazine generally opts for color-intense covers, says Lower, every once in a while it breaks away from this; for example, with its November 2008 issue featuring an embossed Braille cover.
For the August cover, "We gave Mike [Rohde] two directions he could take the design: the first was to do something about visual thinking, and the second was to do a meta cover on what it would be like to create an Associations Now cover in sketchnote form," says Lower. The two decided upon a visual thinking collage comprised of the tools and notes in sketchnote style.
The first step was for Rohde to sketch a rough pencil design, which he did in a Moleskine squared notebook. He then scanned it in and sent it to Lower for review. The next step was  creating the cover in actual size on a sheet of heavy paper, laying out elements like the logo, headlines and table of contents. Producing the cover's creamy background color in Photoshop was particularly tricky, Rohde says, as "it's easy to lean too much toward yellow or red."
As part of the magazine's recent standardization, Lower considered keeping the mechanical (non-sketchnote) logo. However, afraid it would impact the design look, she ultimately opted for Rohde's sketch. "I think it's bold enough that everyone gets it," she adds.
DESIGNER'S COMMENTS
"This cover, for all its complexity, is in reality far too simple. Defiantly archaic, there is little here that speaks to the present: black and white and without nary a nod to anything digital, this sketch feels like a blueprint for some far more fascinating image. It is busy to a point of distraction and while visual allusion as concept is good, this lacks old school charm: it simply looks dated. Typographically, the hand lettering overwhelms the concept leaving it without irony or intrigue."
Randy Dunbar  | Creative Director | RandyDunbar.com

"In the broadest sense, I think it's a good idea and executed well. However, it's trying to cover too much ground, and the lack of focus undermines what could have been a striking cover. I've had to wade through too many platitudes about erasers, Post-it notes, and redundant calls to action (I get it: it's fun, and erasers are good). To focus on this 'fun,' they could have made a cool drawing as the focus of the cover; instead, I see pens and a pretty generic guy running. The biggest crime is the absence of color. Imagine a really fantastic doodle, of, say, butterflies or lightning bolts or even light bulbs—anything to convey the idea of imagination and inspiration—and imagine it in color. Even if they really wanted to be sticklers about the sketching, the colors could simply be highlighter colors (pink, yellow)."
Jason Treat | Art Director | The Atlantic
Meet the Author
---