Today, people on average spend nearly a third of their day engaging with digital content, according to Adobe's 2018 Consumer Content Survey. Navigating audiences across various platforms is a constant challenge for publishers.
At Facebook, we believe in building community for people across multiple platforms. Strong communities build loyalty, and loyal audiences are best for successful monetization. To that end, we're creating tools that help publishers build community and monetize sustainably both on and off Facebook.
What Does it Mean to Build for People?
We believe content can create a two-way experience, and that two-way interaction can create a more meaningful experience for people. We are bringing this vision to life with tools that enable real-time conversations between publishers and their fans, places for communities to grow around shared interests and opportunities for people to participate in and influence the content they care about.
Use Social Video to Build Loyal Communities
Video in particular lends itself to shared experiences. Research from Facebook IQ showed that nearly 60 percent of millennials and teens expected to increase the amount of social video they watched in 2018. Social video is a prime place for building community because it steps beyond a one-way broadcast to enable two-way experiences between you as the publisher and your audience.
We have built Facebook Watch to be a place where publishers can interact with viewers and build community through video. CNN's "Anderson Cooper Full Circle"—a live news broadcast created for Watch—brings the audience directly into the conversation through live polls and integrated conversations.
Chef Jamie Oliver's Facebook Group "Veggie Challenge" uses Watch Parties in which people can view cooking videos together and interact with one another in real time. Group members engage with each other, as well as with Jamie, who sometimes joins in to prompt conversation and answer questions.
While using new tools and capabilities to interact directly though the content viewing experience is one approach, publishers can take some simple steps to build engaged communities around their content. For example, creating places for your fans to evangelize content and drive conversation on your behalf like Facebook Groups, or engaging with fans directly by responding to comments or asking for input.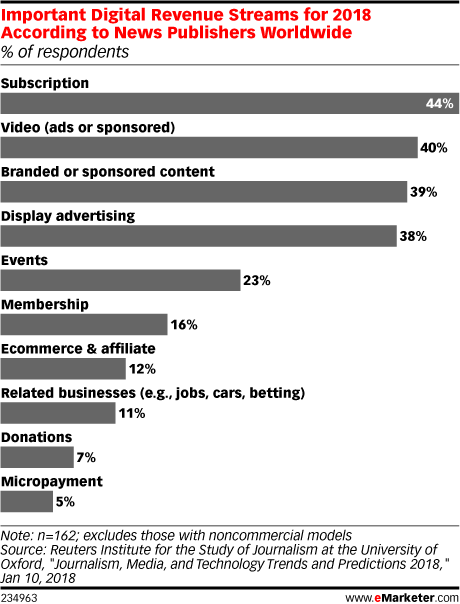 Use the Power of Community to Monetize Sustainably
At their core, strong communities are built on engaged members, and engaged audiences are an important factor for monetization.
Monetization today requires publishers to have multiple revenue streams. A 2018 study by eMarketer found that, while total digital ad spending per internet user is expected to increase from $380 this year to $580 by 2022, 44 percent of news publishers anticipated that subscriptions would also be an important revenue source for them this year. And 39 percent called out branded or sponsored content as another important revenue source.
Monetize with Videos that "Merit" Ads
The opportunity to make money from video is growing. According to WARC's latest global ad trends report, advertisers are expected to spend about $30 billion on online video in 2018. The majority of ad dollars will be directed at the rise of mobile video.
Ad Breaks are a way to monetize the video you distribute on Facebook. Whenever an Ad Break is shown—before the video, during the video or in the player directly below the video—the publisher or creator earns a share of the resulting revenue.
The concept of building for loyal and engaged communities is directly correlated to Ad Break success. Ad Breaks work for people when they feel the content 'merits' an ad—usually this is in videos they actively seek out from a publisher or creator they feel connected to. Ad Breaks are available to all Pages that meet our eligibility criteria, which are listed here.
Partner with Brands Who Want to Reach Your Audience
Brands are looking to partner with publishers who have engaged, loyal audiences to feature their products in a way that integrates smoothly with the publisher's content and tone. Branded content is attracting more spend from marketers (50-percent larger budgets are predicted, in research from CNN). Compared to traditional ads, branded content has been shown to get 63-percent higher emotional engagement from viewers, per CNN.
We are working on a number of updates to our branded content tools to offer more options and flexibility to publishers. Earlier this year, we introduced Brand Collabs Manager—a tool that makes it easy for publishers and brands to form branded content partnerships. With Brand Collabs Manager, brands can search for publishers to partner with for branded content opportunities on Facebook and then contact them directly to start a conversation.
Use Different Channels to Drive Subscriptions
Subscriptions are becoming an important part of a diversified monetization strategy. Today, people are increasingly comfortable with subscription services of all kinds, which is good for publishers who are trying to meet the varying needs of a wide customer base.
We've been working with publishers across the U.S. and Europe to test support for subscription models in Instant Articles, with the goal of improving subscriber acquisition from Facebook.
Results so far are promising: in May, people who saw Instant Articles from publishers in our test group were 17 percent more likely on average to subscribe to those publications directly from Facebook than people who saw standard web links.
---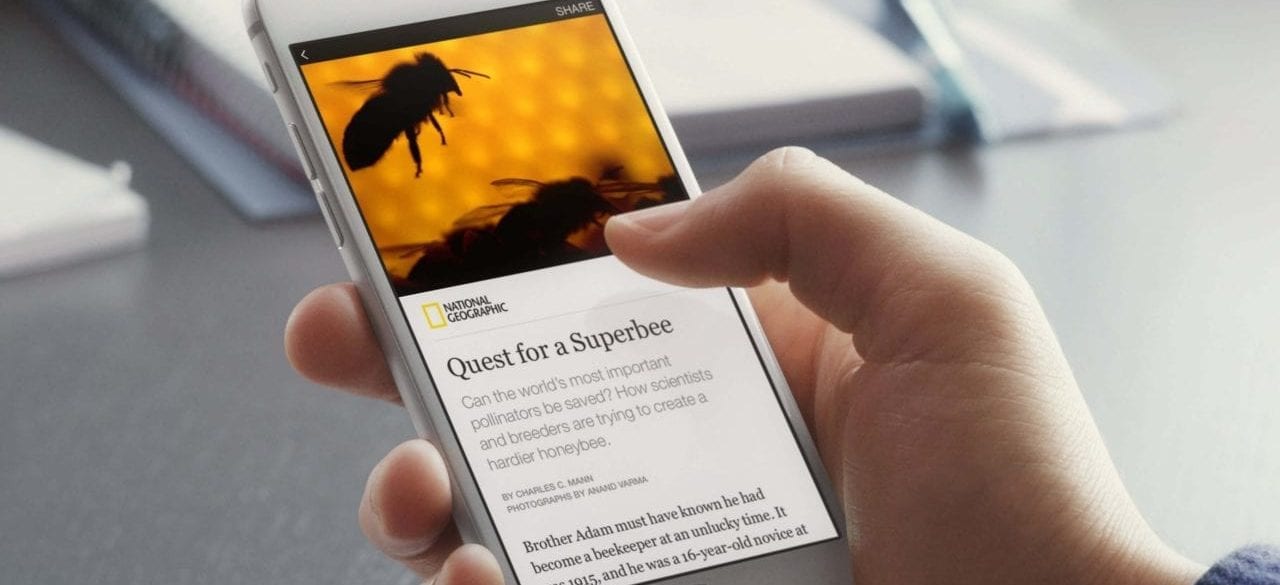 ---
Quality Ad Experiences for Your Own Sites and Apps
You work hard to build content and experiences that attract, engage and delight people. Which is why, when it comes to ad monetization on your own sites and apps, it's critical that ads deliver a quality experience that is relevant to your audience and brand safe.
Facebook Audience Network allows you to monetize your own sites and apps with quality ads, served to relevant audiences. Our solution is designed to provide a better ad experience—one where people see ads that fit their interests, in formats that complement your content.
Facebook advertisers can extend Facebook ad campaigns to run on Audience Network, which means you have access to a massive pool of global, diverse demand. You also have tools to optimize your fill rates and revenue, as well as controls to ensure the ads shown are right for your site or app.
Audience Network prioritizes ad formats that offer the best experience for people, publishers and advertisers—these include native, full-width, interstitial, rewarded video and in-stream video. The format we especially see success with for publishers is native.
Native ads are less intrusive and more engaging because they match your app's design, layout and flow. Plus, they're mobile friendly. The seamless experience of native ads means better user engagement, and better engagement means better results for publishers. Our research shows that native ads yield up to 60-percent more engagement, up to 3X greater retention, and up to 2X higher eCPMs.
Native ads yield:

• Up to 60-percent more engagement

• Up to 3X greater retention

• Up to 2X higher eCPMs
Great Experiences for People Enable Sustainable Monetization for Publishers
Monetization strategies will vary by platform and publisher, but when you focus on putting people first, you contribute to a sustainable ecosystem where everyone wins—people, advertisers and publishers.
We see this at work with Facebook Audience Network. When ads are relevant and less intrusive, it creates a positive experience for people. Positive experiences lead to better outcomes for advertisers, which means better results for publishers. I believe such a cycle will lead to longer-term sustainability.
No strategy will ever be one size fits all. When it comes to building a sustainable strategy both on and off Facebook, one thing holds true whether your publication was born offline or born online, whether you serve businesses, mass consumers, smaller regions or a global audience—your viewers, readers and fans are looking for meaningful experiences and deep connections.