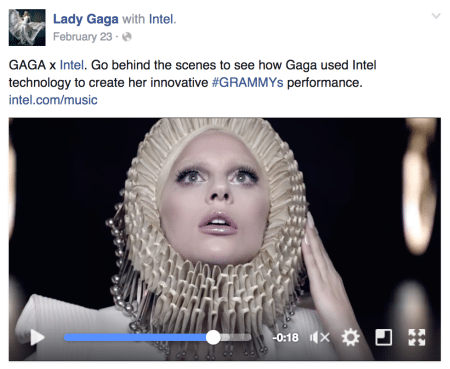 Facebook, the platform often lauded—and derided—for upending the digital advertising game, announced today a policy change uncharacteristically reactive in nature.
Starting today, the social platform will permit certain publishers to post branded content on their pages.
While publishers, marketers, and public figures alike have long gotten away with posting branded content to Facebook, whether in the form of traditional posts, images, or videos, the practice was technically against the network's policy. That appears to be changing.
Verified pages (those with the blue badge) now have Facebook's blessing to post content branded by third-party advertisers to their pages, provided they use Facebook's branded content tool—released today—to tag the partner sponsoring the post.
"This update is something that media companies, public figures, influencers, and marketers have been asking for, as branded content is a growing and evolving part of the media landscape," reads a blog post by Facebook's product manager, Clare Rubin, and VP of partnerships, Nick Grudin. "We know that many of our partners have existing partnership deals with marketers, and this update gives them the ability to extend their branded content business onto Facebook."
Once tagged, sponsors will be notified and given the opportunity to share or promote the post.
As part of the roll-out, Facebook says publishers will also have access to transparent analytics to examine how well their branded content campaigns are performing on the platform.
The new policy comes with several caveats. For branded videos, pre-, mid-, and post-roll ads are explicitly prohibited, as well as videos containing third-party products, brands, or sponsors within the first three seconds or "persistently throughout the video," including title cards and graphical overlays or watermarks.
Banner ads are not permitted on photos, nor are any ads permitted in cover photos or profile pictures.
"People have told us that they find some types of branded content to be less engaging than others, and this was typically when the content was more promotional," the post continues.
Facebook's pivot is consistent with the revelation earlier this week that it is actively paying celebrities and publishers to use its new live video feature. When Facebook wants influencers to adopt a new product or content format, it appears to recognize that they're more likely to do so if given the opportunity to monetize it.
The solution may not be perfect—and publishers may well be smart to remain skeptical of pouring too many resources into social media partnerships—but with networks like Facebook eating up advertising revenue at an alarming rate, allowing publishers to see a small slice of the action is certainly a step in the right direction.