Facebook Introduces New Content Sharing Capabilities

Open graph changes, ticker installment automatically shares content.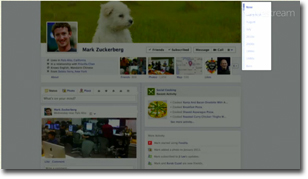 Today, Facebook hosted its fourth annual F8 Developer Conference, with founder Mark Zuckerberg trumpeting the latest FB improvements. Among these is the sharing expansion, integrated both into the new Facebook profile layout dubbed the Timeline (pictured); as well as a new homepage feature called the Ticker.
The expanded Open Graph technology introduced today integrates user activity within an app directly into their Timeline. Once a company develops an Open Graph option into their app offering (which can be done through a developer beta option), the app is included into users' profile Timeline. As the user interacts with the app (reading articles, etc.), the activity shows up within the app section in the user's timeline; as well as on the Ticker on their homepage.
The Ticker exists as a lightweight version of the news feed which traditionally shows people's activities, liking, commenting and friending. If a user hovers above a friend's recent activity in the Ticker feed, a canvas app is opened over the user's home feed. To that end, users are able to read full articles without navigating away from their page. Publishers with a canvas app already available include Huffington Post, The Guardian (and The Daily app), Mashable and The Economist.
The Ticker also exists as a way to avoid clogging users' home feeds with content, an oft-recognized grievance of publishers sharing content through their fan pages. By feeding content into the Ticker option, publishers are able to share content to fan's pages without bombardment, as the Ticker exists as a smaller portion of the homepage than the main news feed.
Bret Taylor, CTO of Facebook, encourages app developers to add the Timeline for Facebook users directly into the app sign up process. This way, there is a "frictionless experience" for users; once the app is installed, a feed is instantly linked between app content and user profiles.
As the user engages with an article, this is automatically sent into to their feed, spreading content without the reader having to repost or "like" the article/magazine.
Facebook is also integrating an open verb option for users. In addition to "liking" a particular item, members can use any verb of their choosing to describe engagement with a noun (read, bought, hated, etc.).
Meet the Author
---