Face Up: WMB: World's Most Beautiful 3D Magazine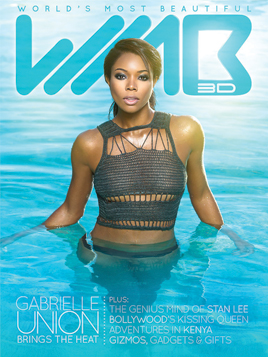 MAGSTATS
Issue: 2
Frequency: Quarterly
Circulation: 150,000
Launched: August 2010
Publisher: Nick Saglimbeni
Art Director: Clint Davis
Editor-in-Chief: Katie Pegler
Only in it second issue, World's Most Beautiful 3D (WMB 3D) is aiming to create a magazine category all of its own. Nick Saglimbeni, photographer and publisher of WMB 3D, claims his magazine to be the world's first fully three-dimensional photographed publication.
In 2010, Saglimbeni partnered with an engineer in developing two camera systems utilized for all of WMB 3D's photography. "After each shot, I earmark the shots that I love in 2D, just as I would for a traditional publication," says Saglimbeni. "Then we put the images through stereo testing, where post-production supervisor Joyce Park analyzes everything from 3D alignment to image depth. Sometimes what looks amazing in 2D isn't very impressive in 3D, or vice versa. We will occasionally run different images in the 2D and 3D versions."
Saglimbeni collaborates with art director Clint Davis on font choice for the cover and in-book text. WMB 3D's signature font is Quicksand, as it reflects many of the logo's design nuances. The publisher also utilizes Helvetica Neue.
While WMB 3D exists in print, the freedom of the digital landscape is a distinct advantage for the magazine's creative team. "Anyone well-versed in offset printing knows that you can spend a lifetime mastering CMYK color space, only to produce an image that might look as good as something that would fall off the truck on a bad day in RGB. Just as digital publishing changes the landscape for the publisher, having a luminous canvas changes everything for the artist," says Saglimbeni.

DESIGNER'S COMMENTS
"I'm not familiar with this magazine so any critique is a bit unfair. I'm not clear what the magazine's audience or mission is. That said, a magazine should give a prospective reader some sense of its purpose. This seems like a controlled circ magazine using stock photography with a generic, luxe sell; if it is a newsstand magazine it is challenged by an inscrutable logo and coverlines that are impossible to read without a flashlight and a magnifying glass. And I was perplexed at how a magazine dedicated to the "world's most beautiful" would run a piece on Stan Lee—who is certainly a legend but not a icon of image, which this magazine visually seems to be reaching for. We at the magazine bent over backward to avoid being generational. To a person, the overall reaction was confusion—what is this magazine and why should we read it?"
Keith Bellows, VP/editor-in-chief, National Geographic Traveler
 
"Graphically I like it. It is nice, modern and fresh looking. The cover looks good, nice balance. I like the blue color all around but if this was on a newsstand I am not sure that the cover would pop out among the other titles. I would take out the reflection that cuts through her hip and leg, or at least tone it down. The font choice is nice and light and does not distract from the image, however I feel the words 'Gabrielle Union' could be a little stronger in weight to add more emphasis. Another observation: I like the logo a lot, but I am not sure that the branding is easily recognized at first glance until you read the words 'World's Most Beautiful'."
Mark Rook, director, creative services, WTWH Media, Inc.

Have a unique "cover" story? Contact associate editor Stefanie Botelho at sbotelho@red7media.com.
Meet the Author
---