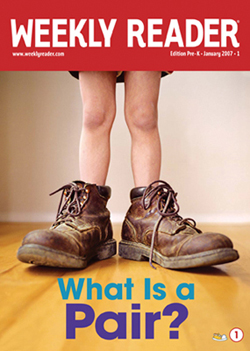 This Month: Weekly Reader
Issue: Pre-K Edition, January 2006, Issue 1
Frequency: 28 times per year
Launched: 1980
Circ: 392,940
Editor: Linda Ruggieri
Publisher: Weekly Reader Publishing
Creative Director/Art/Graphics: Creative director Amy J. Gery and design consulting company Alexander Isley Inc.
Weekly Reader Publishing CEO Ann Jackson challenged the Weekly Reader staff to freshen the look of its seven Weekly Reader editions, and senior VP of editorial Ira Wolfman and his staff knew the magazine was due for a fresher, bolder look. Serving students aged 4-12 and their teachers was the mission, and the challenge was to engage in a way appropriate to that level.
The early elementary group (pre-K through grade 2 students) needed a flexible, more readable presence. Specific design changes included a nameplate and coverline treatments. "We also reduced clutter by eliminating the color-coded borders that previously were on the top and bottom of every cover," says Wolfman. "This also enabled us to expand our color palette. And we reduced the amount of text on the cover by removing small type that was aimed at the teacher."
The January debut issue centered around the theme of "What is a Pair?" and creative director Amy Gery knew she wanted something youthful, but strong. "I wanted something silly, fun and surprising," says Gery. "This image works on so many levels. It catches attention, makes people smile, and enables readers to grasp the concept immediately."
"The new design is a total success. Keeping the same basic logo font while simplifying the overall design is definitely the right call considering its readership. Hopefully the cover images to follow will be as simple and direct (and as fun!) as this one."
–Charles Brucaliere, Forbes
"The large size type for the coverlines works well visually and for the young children who will be trying to read them."
–Sharen Conway, Studio/monthly
"The most dramatic change is the very effective use of a simple and humorous photo. It stands on a bold headline that also provides a nice touch of color that balances the heavy masthead."
–Bryan Canniff, Bryan Canniff Design
"My only quibble is with the Avant Garde type used for the coverline. It's an awkward match with the logo. Using two prominent sans fonts together really ups the degree of difficulty for the art director."
-Greg Paul, Brady & Paul Communications Inc.