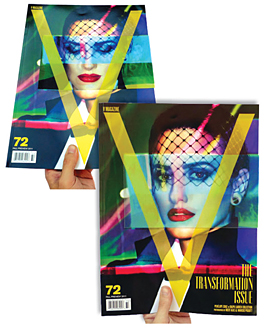 MAGSTATS
Issue: July/August 2011, V72
Frequency: Bi-Monthly
Launched: 1999
Circ: 85,000
Publisher: Visionaire Publishing
Art Director: Sandra Kang
Editor-in-Chief: Stephen Gan
The cover of the fall preview issue of V Magazine, with its neon palette and cover subject Penelope Cruz donning menswear designed by Ralph Lauren, has an undeniably modern feel. However, V's art director, Sandra Kang, says editor-in-chief and creative director Stephen Gan found inspiration from a decidedly vintage source: a 1965 issue of Harper's Bazaar featuring Jean Shrimpton with a lenticular blinking eye.
Positioned as a collector's issue, V's July/August "Transformation Issue" features a lenticular piece integrated into its cover, with Cruz's eyes opening and shutting as the angle of the cover is manipulated. Priced at $10.00, the magazine typically sells for $6.50.
The uppercase V, the magazine's namesake and logo, is often worked into cover art. Kang says, "After numerous trials with the V, we went with something that would stand out. We chose this yellow, transparent photo technique, and all the pieces came together."
Cover lines, which Kang observes as usually "a bit more heavy", were kept sparse in order not to detract from the cover's central image.
Along with its sister publication V Man, V often utilizes specialized publishing and treatment techniques. Past collector's editions of V include a hardcover bound Asian issue and a "sexy body" issue with photographs featuring scratch-off "Vs" that revealed the uncensored photos underneath.
"This idea of specialized publishing and specialized treatment comes out of the spirit of Visionaire," says Kang of V's parent art and culture publication.

DESIGNER'S COMMENTS
While the use of the blinking lenticular cover is intriguing and certainly reinforces the idea of transformation, I don't find its use as graphically interesting as previous V covers. The fusion and graphic interest of the bold, clean masthead woven with dynamic imagery has proven a successful formula in the past. The three-dimensional quality created by this marriage of elements is often more stunning than the quality achieved by the new media featured here. While I applaud the willingness to venture into new territory, great design and typography will always trump the latest fad.

Mick Schnepf/
Art Director, Traditional Home Magazine
V Magazine has created a bold and stylish cover for their Transformation Issue. In line with the magazine's typical style, the cover is not as much about cover line typography, as it is about arresting cover images merging with their giant logo. I've always been a fan of the full-cover
logo, and in this case I love its transparent treatment. The choice of bright yellow for the logo and headlines is brilliant; combined with the photograph, the cover is bursting with color.

Of note, the cover photograph of Penélope Cruz by Mert Alas & Marcus Piggott has a retro pop feel and yet manages to read as modern and fresh. Unfortunately, I can't say quite the same thing for the somewhat dated looking typography for The Transformation Issue cover line.

A sticking point is the use of a lenticular, which seems a little bit like a look-at-me newsstand gimmick. I don't think it adds a whole lot to the storytelling. While Cruz opening her eyes could have been a 'wow' on the newsstands 15 years ago, nowadays I would expect more substance out of the use of that printing technique.

Despite this minor gripe, I think that for overall impact, issue 72 of V Magazine is stylish, confident and bold. A knockout cover on the newsstand.
Josh Klenert/ Society of Publication Designers, Vice President, Board of Directors

Have a unique "cover" story? Contact associate editor Stefanie Botelho at sbotelho@red7media.com.