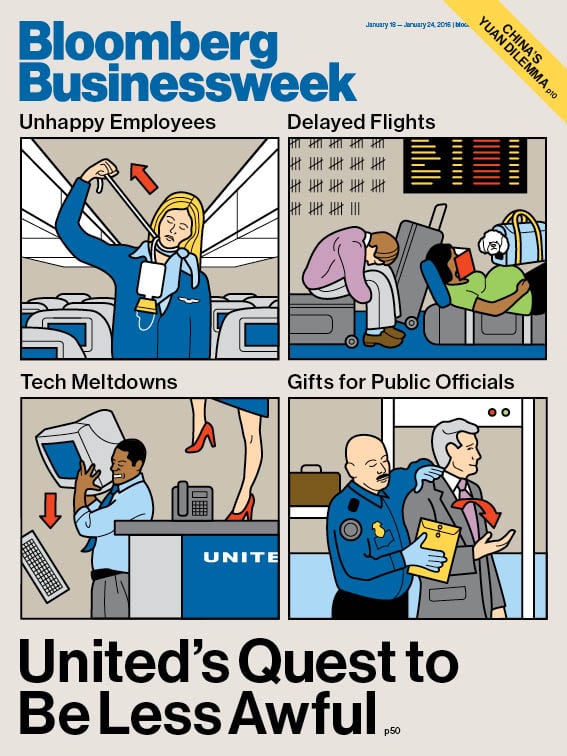 Bloomberg Businessweek

Issue: January 18, 2016
Editor: Ellen Pollock
Creative Director: Rob Vargas
Art Director: Jaci Kessler
Publishing Company: Bloomberg Media
Circulation: 980,000
Bloomberg Businessweek has earned its reputation for developing some of the most talked about covers in magazine media. And according to creative director, Rob Vargas, making that happen comes down to a couple fundamental objectives.
"When we're planning a cover we're looking to have as much impact as possible," he says. "Clarity is also very important. Many times we have to take complex stories and boil them down into an incredibly simple idea."
Vargas and art director, Jaci Kessler, made good on both impact and clarity for Businessweek's January 18 cover. Not only does it cut to the point by calling out United Airlines' maladies, but it also delivers the message through an illustration that is instantly recognizable to anyone who's ever flown on a commercial airline.
Nevertheless, as effective as the cover is, it was not the original concept. "We had a cover idea which was a passenger vomiting into an airline sickness bag," Vargas says. "But then we had a story about the Chipotle E.coli outbreaks and decided to run a cover of a burrito vomiting, so we had to kill the original United idea."
Both Vargas and Kessler say that the second concept came together smoothly, but from an execution standpoint, there was one notable pivot before the final cover was approved. "We only had to kill one cell, which was "Bad Coffee," Kessler says, who illustrated the cells. "It just didn't deserve to be called out on the cover. But I really liked the illustration for it: a woman throwing her coffee out an emergency exit door onto the big inflatable slide."
Designers' Comments:

Businessweek does it again. They shined a spotlight on a very sore subject for travelers and threw a deft punch at United's shortcomings in one fell swoop. They have touched on all that is wrong with the airline and piled on with a hilarious headline. It's Businessweek doing what they do best, being sharp, sarcastic and compelling. The illustration of the man accepting a bribe looks like he's getting a massage with an envelope from a very friendly TSA agent. It took me more than once to get that concept even with the line explaining it. — Matt Strelecki, Creative Director, Meredith Agrimedia
Over the past several years, Bloomberg Businessweek has become known for their edgy, over-the-top covers. While this one is perhaps not the most visually outrageous they have ever done, it is certainly provocative and ranks among their recent best. They used the panel cartoon style illustration here to great effect. It's playful in its presentation, yet serious in tone. Thee light background tone sits back and lets the illustration colors pop, and the blue logo picks up nicely on the blues in the illos. It may have also worked well with a black background. — Dean Abatemarco, Creative Director, Reader's Digest