While 2019 winds down, many of us are reflecting on the year that was. We talk about our favorite movies, TV shows, records, etc. But here at Folio:, one of our favorite things to look back at are the year's best magazine covers.
As an annual tradition, we reach out to some of the top designers from around the industry to get feedback on their favorite covers. Like every year, the picks show a diversity of timely, relevant topics as well as design aesthetics.
So here they are, some of the industry's favorite magazine covers in 2019 (in no particular order).
D.W. Pine
Creative Director, TIME
When I was a kid, I saved every Sports Illustrated cover, scotch taping my favorites to my bedroom walls—a ritual my teenage son started doing on his own just a couple years ago. Back then, it was exciting to see what athlete was actually good enough to make it onto their cover. SI made sports important. In fact, the only item I've ever had another adult autograph was a Sports Illustrated cover, as Lynn Swann did for my son on his famous 1976 Super Bowl cover.
Which brings me to this past April, when SI chose the emotional image of Tiger Woods recapturing his Masters glory and, without any headlines, they made sports important again. I know firsthand how difficult it is for editors to resist adding words to an image like that. What they accomplished by restraining themselves is historic (SI reports only a few instances of no-cover headlines in its 66-year history) and it reaches beyond the saying "an image is worth a thousand words." It certainly does that. But it succeeds in letting the reader imagine their own words to capture the moment for themselves. For me, that word is "YES!" Now, if I could just find some scotch tape.
Sports Illustrated, April 22–29
Creative Director: Stephen Skalocky
Managing Editor: Chris Stone (at time of publication)
---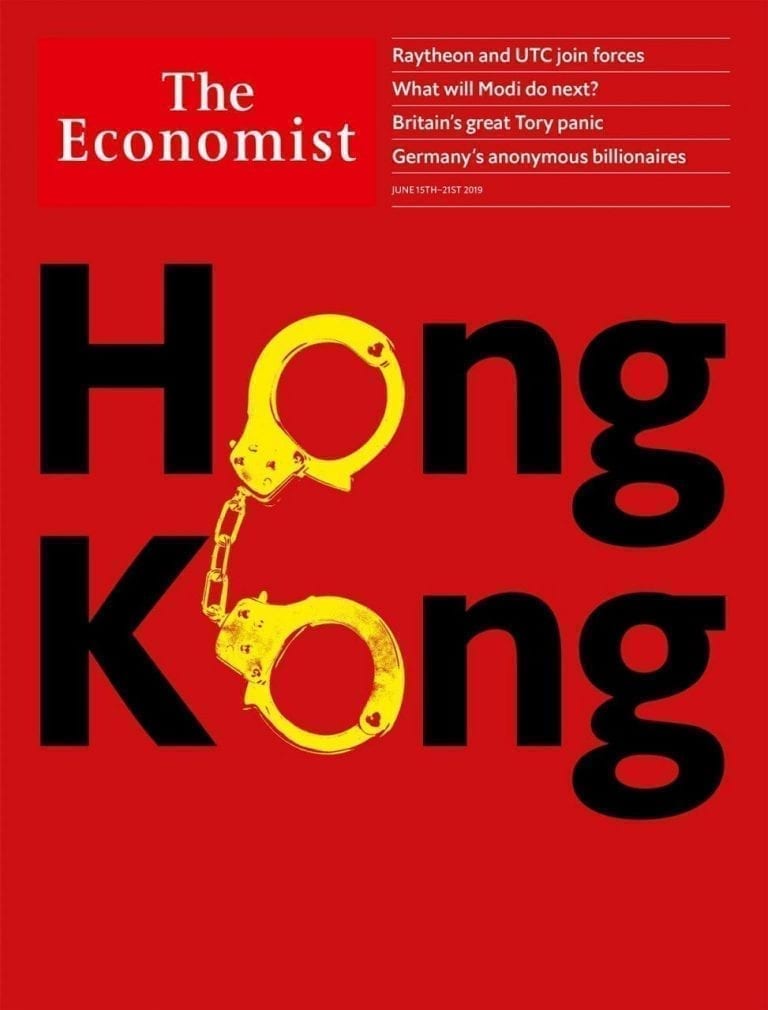 Matt Strelecki
Creative Director, Meredith Agrimedia

The Economist artfully captured the crackdown in Hong Kong by Beijing's rulers. Incorporating the nearly universal image of handcuffs as a symbol of authority, the art director translated the situation and locale into a simple, bold statement about Xi's crackdown on the months-long protests.  
Simple covers, like ice skating, are deceptively difficult. Distilling often very complex situations down to a single thought requires a deft hand and focused thinking. The design team at The Economist have managed to make a very effective statement using the Chinese flag as a source and the symbol of brute power to convey the immediacy of what is now happening in Hong Kong as citizens demand their freedom from Beijing's incursion into their lives.
The Economist, June 15–21
Art Director: Stephen Petch
Editor-in-Chief: Zanny Minton Beddoes
---
Jami Geittmann
Senior Art Director, Taste of Home
Choosing a favorite magazine cover is like trying to name a favorite child—there are different aspects of many that I love. But since I have to narrow the choices, I've picked the February 2019 Parents cover featuring fitness pro Shaun T and his husband, Scott Blokker.
By featuring Shaun, his husband and their adorable twins, Silas and Sander, Parents not only normalizes same-sex couples, it reflects America's diverse culture and the different configurations of families today. I love that Parents magazine is infusing their issues with diversity and inclusivity of all types of families.
Since the 2017 redesign, Parents covers are simple and vibrant, with bold and striking uses of color that always catch my eye and make me smile. The cover typography is understated, letting the strength of the overall design rest on the subject matter and eye-catching color palette. The unexpected color combinations are always a welcome treat that I look forward to every issue.
Parents, February
Creative Director: Agnethe Glatved
Editor-in-Chief: Liz Vaccariello (at time of publication)
---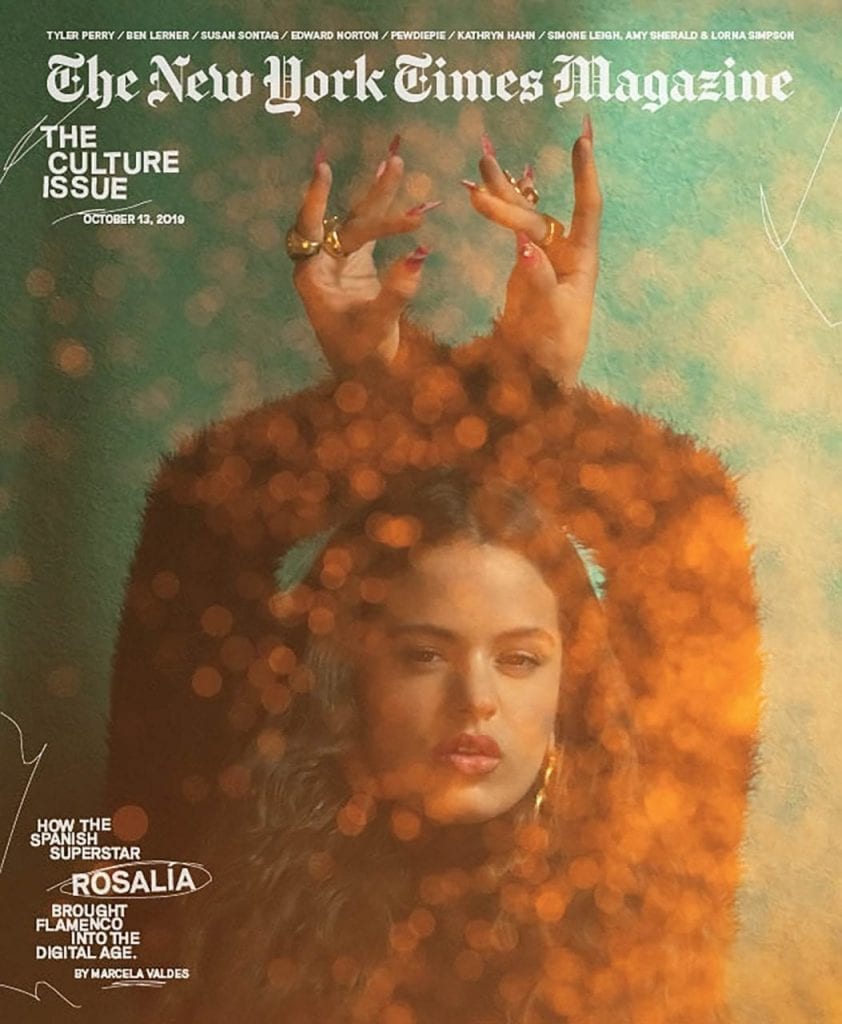 Mallory Roynon
Creative Director, Airbnb Magazine
I would love to celebrate the October 13, 2019 New York Times cover featuring the gorgeous Spanish superstar, Rosalia. Photographer, Chris Anderson, really brought her entire vibe to life by building an actual roaring fire on set. From what I understand, she even danced the flamenco and sang behind the flames.
It's a visual you can't forget. The way Anderson shot her was a very effective and contemporary approach to a woman who brought an old-world movement into modern day.
I am not sure I understand the thinking behind the scratchy lines around the type and throughout the issue, but visually they do add an additional fiery layer.
New York Times Magazine, October 13
Creative Director: Gail Bichler
Editor-in-Chief: Jake Silverstein
---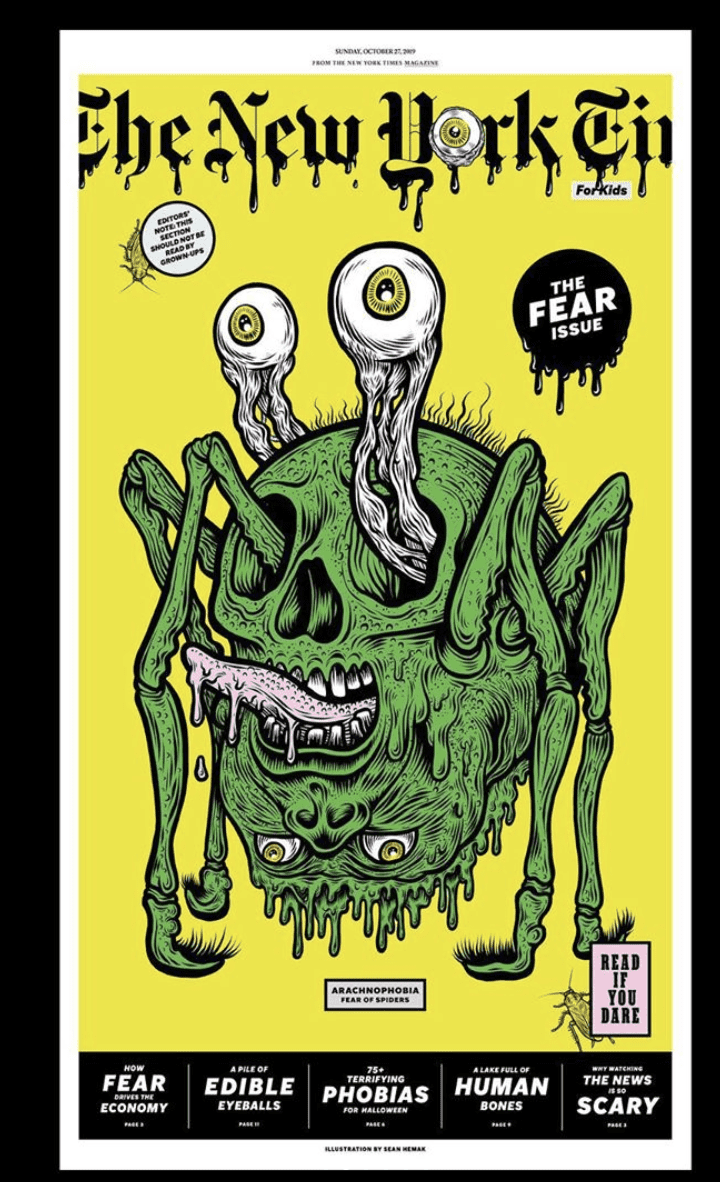 Russ Smith
Creative Director, Popular Science
I am not necessarily a kid person, so it's surprising (to myself and others) that I would pick The New York Times for Kids—but that's how amazing I think the cover of its Fear Issue is.
I picked this one because, well, look at it. It's just so much fun. You can practically feel the gooey grossness of Sean Hemak's illustrations. There's a dripping eyeball in the logo of The New York Times. And that color combination of poison green on that lurid yellow?! It makes you need to see what's inside.
Honestly, I could have picked any cover from The New York Times for Kids section, or even any page. The art is consistently fun, thoughtful and beautifully composed, and the pages are packed with so much great work that each issue is exciting. Ok, maybe I am a kid person…
New York Times for Kids, October 13
Art Director: Deb Bishop
Special Projects Editor: Caitlin Roper
---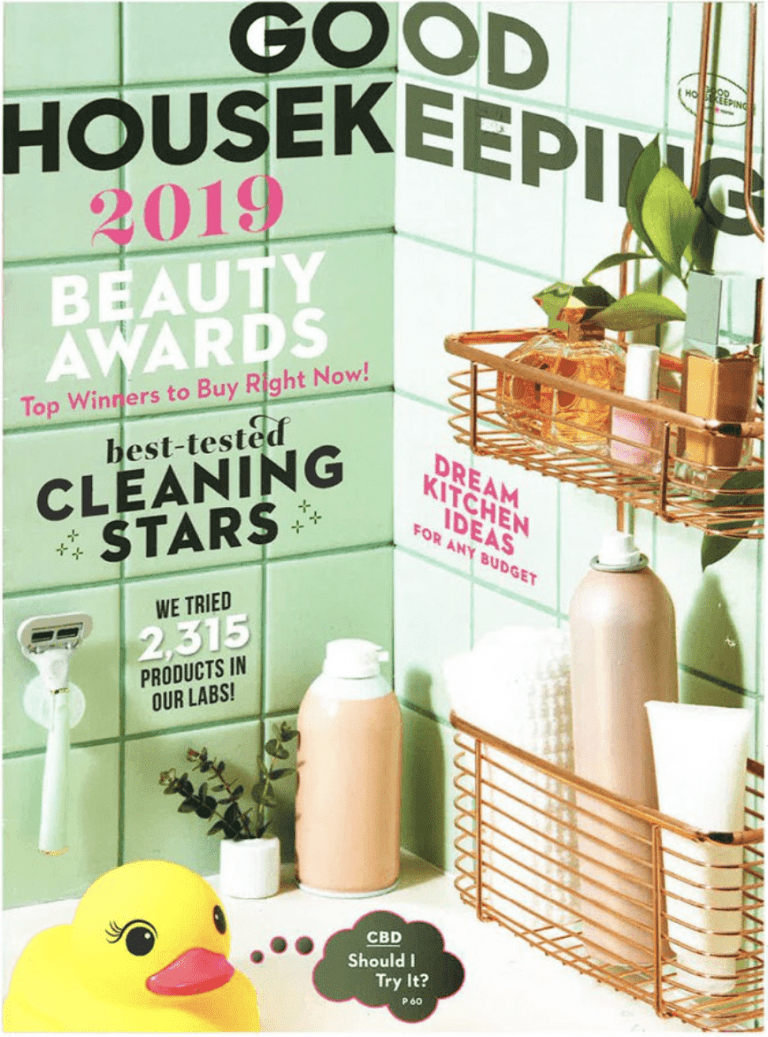 Robert Newman
Creative Director, This Old House
The May cover of Good Housekeeping was my favorite of 2019. I actually could have picked any of a half dozen GH covers from this year; they were that good!
Designed by creative director Melissa Geurts, photographed by Mike Garten, with prop styling by Lis Engelhart, this cover is so smart, so spirited and so engaging, that it brings a smile to my face every time I look at it (not to mention flat out laughing at the rubber duck thinking "CBD: Should I Try it?").
The design is stunningly simple in its brilliance, and does wonders to advance the branding (as in, who would have thought that Good Housekeeping would be doing some of the coolest magazine covers). Most importantly, this cover looks like FUN, at a time when everyone in the print magazine world is so desperately serious.
The Good Housekeeping team shows us all why magazine making can be such a blast when it's done right.
Good Housekeeping, May
Creative Director: Melissa Geurts
Editor-in-Chief: Jane Francisco
---
Dave Mckenna
Art Director, 5280
2019 was a year that climate change broke through the clutter and was featured on many magazine covers, often in the form of amazing young activist Greta Thunberg. My favorite cover of the year also featured the topic but with the image of a skateboarder casually riding by a still active wildfire, breathing through his shirt and possibly FaceTiming or documenting the  surreal scene with his phone.
New York magazine's "Living With Fire" from the May 13-26 issue demonstrates how the right image can still draw in and surprise the viewer.  The casual body language of the figure as he rides by and what could, at first glance, look like the orange glow from a SoCal sunset suddenly turns when we see the distant flames. California and the West have no shortage of wildfires and we can become inured to all the dramatic "fire porn" reportage. Instead, Stuart Palley's photograph draws its power from its authentic and everyday mood.
The cinematic scale of the overlaid typography compliments the headline's play on words without being heavy handed nor cliché. New York, here embracing a cover story that is not within their geographic borders, gives its readers a visual reality check and call to action.
New York, May 13-26
Design Director: Tom Alberty
Editor-in-Chief: David Haskell
---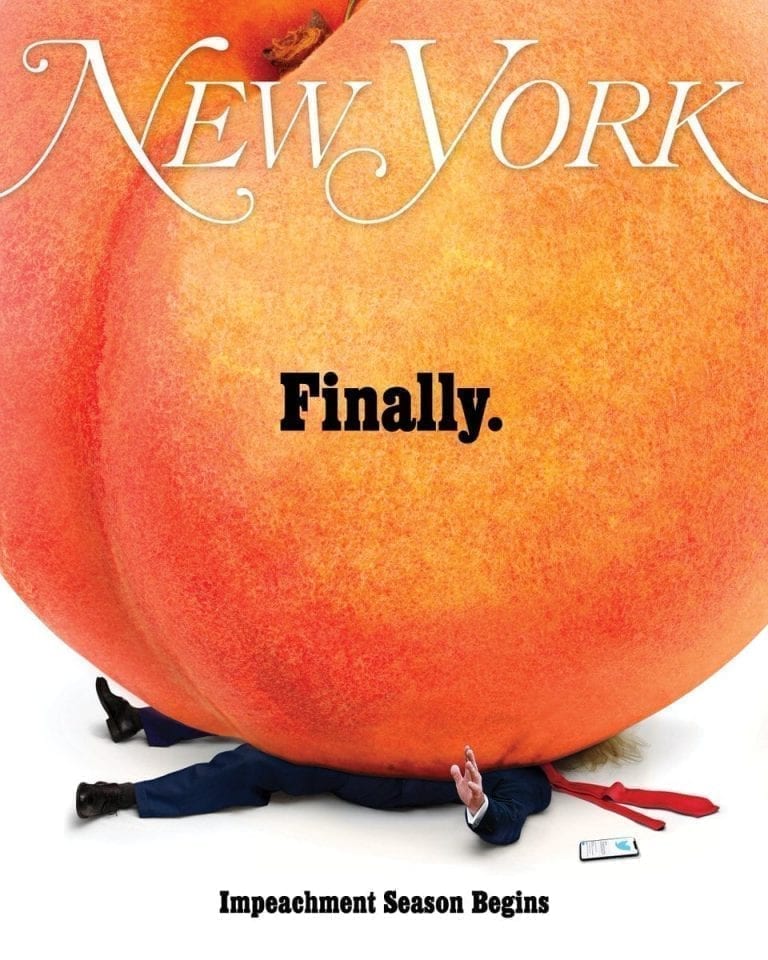 Abbey Kuster-Prokell
Creative Director, Martha Stewart Living
New York's Impeachment Season cover (October 14-27, 2019) is my favorite of the year. It's a flawless example of strong art and editorial working hand-in-hand, and perfect in its simplicity. A giant "emoji" peach squashing a likeness of Trump— brilliant.  The photo-illustration works perfectly with minimal use of typography, and all that is needed is a few simple words: "Finally. Impeachment Season begins."
This iconic cover is timely, relevant, and humorous at the same time.
New York, October 14-27
Design Director: Tom Alberty
Editor-in-Chief: David Haskell
---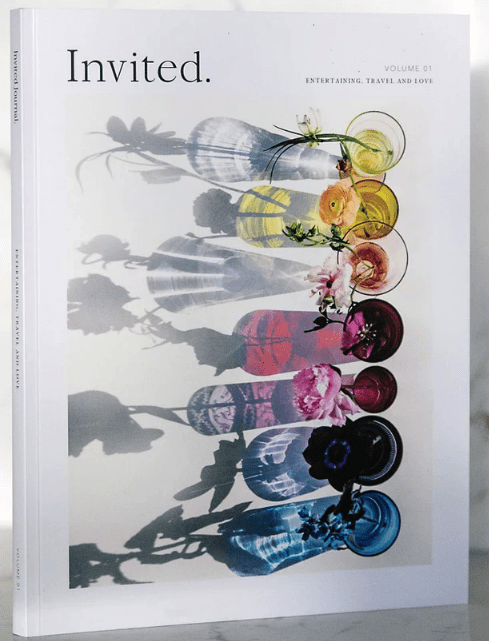 Rina Stone
Creative Director, InStyle 
In a world where commercial print publications are dwindling, a whole new crop of independent magazines are filling up the shelves of Barnes & Noble and even Hudson News. These publications are usually comprised of very small staffs, and decisions are not made by committee or focus group. This usually leads to very powerful imagery and design. 
This is the inaugural issue, created by Matthew Robbins of RobbinsOtoya, a New York-based events design and planning firm focused on destination weddings with a special focus on Central and South America, The Caribbean and Mexico. Robbins is extremely creative and has a real talent in floral design. This cover could have been a place setting, but instead evoked the idea of a celebration. Susanna Blåvarg, a Swedish-based photographer, took this image, and while it is unclear if it was on assignment or licensed, the impact does not change. When I saw it I immediately looked her up on Instagram and sent it to all of my photo editors. It's inspired, very pleasing to the eye, and memorable.
I'm looking forward to future issues of Invited. 
Invited Journal, Volume 01
Creative Director: Natalija Bubalo
Editor-in-Chief: Matthew Robbins
---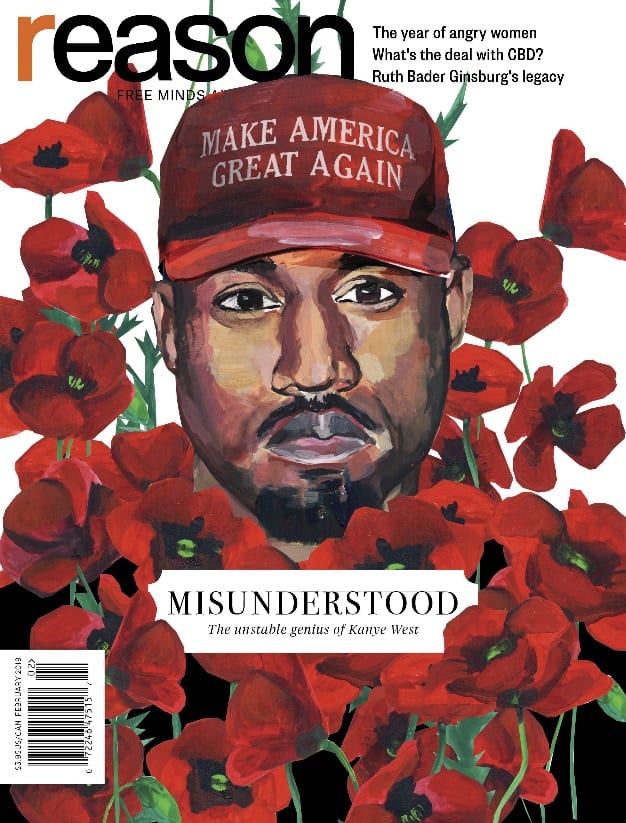 Andrea Vagas
Creative Director, PCT and Hemp Grower

Before you gasp at the cover you see, consider my reason for choosing the February 2019 reason as my favorite of the year.
I think this image of successful hip-hop artist and public provocateur Kanye West donning a "Make America Great Again Hat" is iconic. It's my favorite because it wasn't an easy choice and it evokes a strong emotional response—exactly what art is supposed to do.
Shortly after Donald Trump's election, Kanye came forward in support of the President, saying, (while he hadn't voted), he would have voted for him. Not long after, 21 of his tour dates were canceled and his peers and fans publicly dismissed him—making Kanye yet another victim of today's "cancel culture." 
While it can seem like an act of speaking truth to power, too many attempts have been made to squelch the voices of citizens, professors, writers and celebrities alike. Those of us in media should be concerned about the cancelling of art, music and media.
I respect reason for discussing the complicated views of Kanye and helping us question our own possible views of intolerance.
reason, February
Art Director: Joanna Andreasson
Editor-in-Chief: Katherine Mangu-Ward
---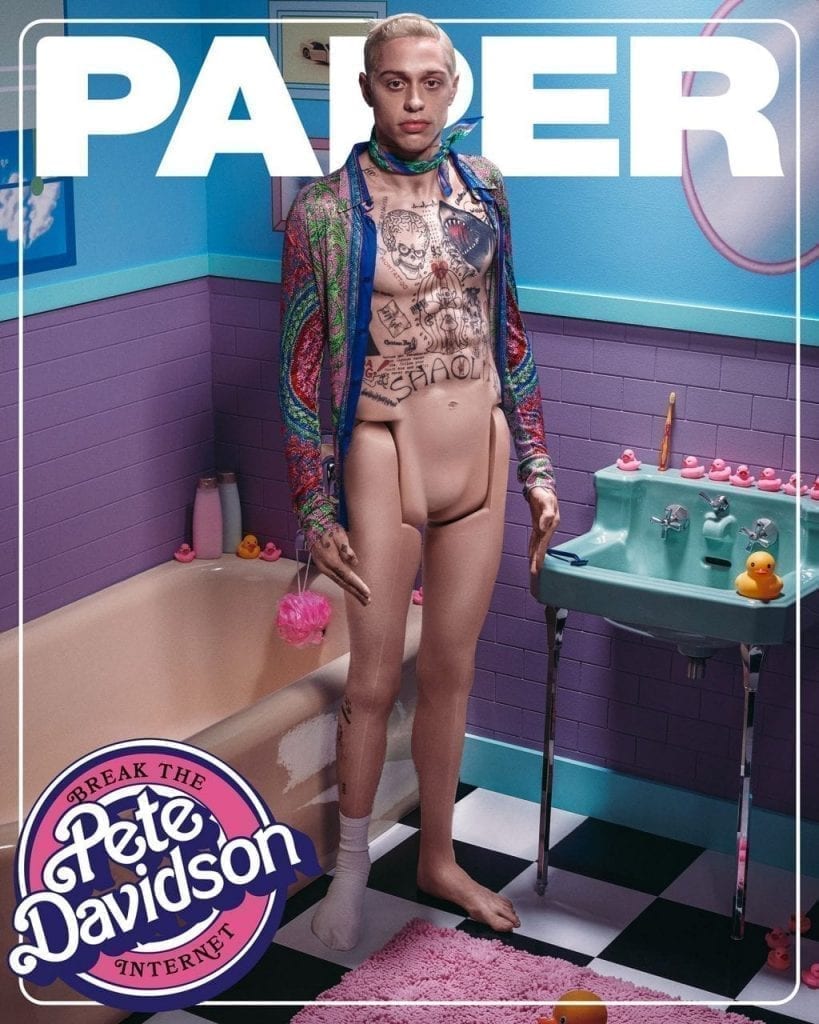 Andrea Dunham
Executive Creative Director, People
This year, three covers caught my attention and held it long enough to convince me not to recycle them as soon as they were read; chief among them, the November 2019 issue of Paper, "Break the Internet," featuring Pete Davidson as a heavily tattooed, half-naked Ken Doll. Talk about a keepsake. Folks will usually discuss certain topics around the water cooler that are not necessarily fit to run in a family publication, i.e., Pete Davidson's "BDE."  So, it is HILARIOUS and DELIGHTFUL to me when a magazine gets right down to it and strikes a little nail in the heart of the truth about what we all wonder privately.
Pete's friend, Tommy Dorfman, channeling a little David Lachappelle and Jeff Koons, absolutely nailed his collaboration with the SNL star with whom I have long been in a "can't look, can't look away" relationship.
The son of a deceased 9/11 firefighter, better-living-through chemistry proving, wounded, erratic man-boy who dates absurdly hot women of a 28-year age range, Davidson took hold of his narrative with this adorable, collectible cover. Just look at that face. The one sock, jaunty neckerchief, loofah dangling from his wrist, and this perfect response to all the gossip around his uh, parts.
Bravo, boys. You broke my Internet; thank you very much.

Paper, November
Art Director: Jonathan Conrad
Editor-in-Chief: Drew Elliott
---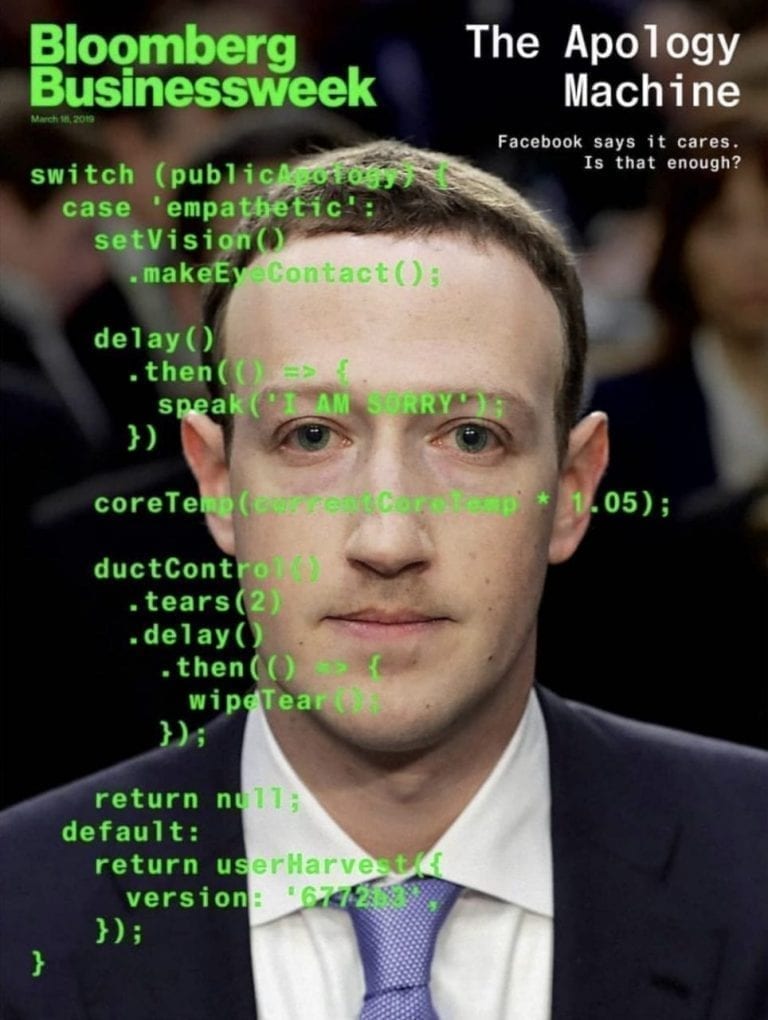 Editor's Pick
Caysey Welton
Content Director, Folio:
I always struggle with picking one cover as my favorite given that I spend the year looking at literally hundreds. But after revisiting this year's collection of work, I found myself coming back to this Bloomberg Businessweek issue from March 18.
Facebook founder and CEO, Mark Zuckerberg, has become a fascinating and regular subject for journalists, so I really have to tip my cap to creative director, Chris Nosenzo, and editor, Joel Weber, for a brilliantly fresh and original cover treatment.
The code-style language overlaid on Zuckerberg's emotionless face is cuttingly smart commentary, and funny. (It's also nice to see a coding reference that isn't the over-played ones and zeros of binary.) There are a lot of ways to call somebody a robot, but I don't think I've ever seen this approach. It's very simple and pointed, and is a perfect collaboration between edit and design.
The feature headline is clear and provocative. And the code forces you to spend time with the image to take it all in.
I also love when a magazine dedicates an entire cover to just a single interior feature. Obviously coverlines that tease out other content inside the book are important for magazines who depend on single-copy sales, but to really create poster-quality art for a magazine cover, I believe less is always more.
Bloomberg Businessweek, March 18
Creative Director: Chris Nosenzo
Editor: Joel Weber
---
Explore the "Face Up" Year-in-Review archives: