Editor's note: I am very pleased to welcome back "Face Up," one of the most popular editorial franchises from the print edition of Folio:, to its new home on FolioMag.com. To kick things off, we've enlisted renowned This Old House creative director Robert Newman and former "Face Up" columnist Caysey Welton, now group editor of Folio:'s sister title, min, to critique the August 3rd cover of Time Out New York. Enjoy!
---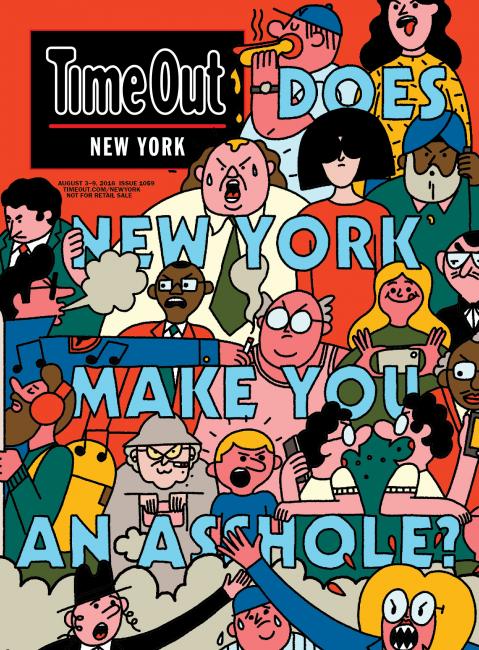 Time Out New York

Issue: August 3-9, 2016
Editor-in-Chief: Carla Sosenko
Creative Director: Tom Hislop
Illustrator: Leon Edler
Publishing Company: Time Out Group
Circulation: 312,000
As a freely distributed weekly magazine with little mandate to appeal to potential readers browsing the newsstand, Time Out New York is afforded some artistic freedom and nuanced sensitibilities when it comes to cover design.
Still, the need to capture the flitting attention of busy New York City commuters persists. What better way to do so than by asking a question that cuts straight to their cores: "Does New York make you an asshole?"
A story so obviously ripe for provocation necessitated an impactful cover up to the task of capturing the very worst of us. Creative director Tom Hislop — alongside editor-in-chief Carla Sosenko and features editor Tim Lowery — eventually came up with a concept that illustrated what is perhaps New York City's most defining negative characteristic: the crowds.
"The theme that resonated with us, thinking about encounters with people in the streets that we've had, was just being crammed and congested, almost feeling claustrophobic in a way," Hislop tells Folio:. "We wanted the cover to capture that feeling of being squished and surrounded by all of these horrible people."
With the concept settled, Hislop enlisted UK-based illustrator Leon Edler to execute it. As it turned out, Edler, who had worked with Time Out New York in the past, loved the idea so much that he agreed to take on the project while away on vacation.
"We felt that getting an illustrator who had a lot of experience creating little asshole-ish figures in the past would be the perfect way to capture that angst and stress," Hislop continues. "His work is just hilarious, he captures all of these funny characters and we knew he'd be up to the job of making this cover feel really stressful."
Edler's illustration, coupled with a spread-out main coverline nearly dominated by unsavory characters against a red backdrop, certianly evokes this reporter's daily feelings of commuter claustrophobia. But to judge this issue's place in the pantheon of cover greatness, let's turn things over to the experts.
---
Critics' Comments

This is one of my favorite magazine covers of this year to date. It does everything a successful cover design should: it's fun, colorful, engaging, provocative, and spot-on connective with the Time Out New York audience.
The cover art, by illustrator Leon Edler, is perfect — just the right mix of funk and style and NYC diversity. Of course I love seeing the word "ASSHOLE" prominently featured on the cover of a popular magazine. And from the perspective of someone who has struggled over the years to make type read over complex cover images, I salute the designer for coming up such a bright and readable design solution for the headline.
That said, I have two slight beefs with this cover. First, I think the headline would have been much more powerful if it was a statement instead of a question ("New York's Biggest Assholes," or "How New York Makes You An Asshole," for example, although I'm sure the TONY crew could do much better than my feeble efforts).
Secondly, I was very disappointed to not find Donald Trump's face somewhere in this group of NYC assholes. I think he would have fit nicely in the lower left-hand corner of the cover (and heck, why not add Rudy Giuliani while you're at it?). But those are small quibbles, and I would definitely put this in the NYC magazine cover hall of fame.
— Robert Newman / Creative Director / This Old House
---
While the question on the cover is not nuanced, the brilliance in its design is. When I first glance at the page, my eyes can't stop moving. There is so much happening but it all fits together seamlessly — much like all the characters who make up New York. The image features just about every New Yorker stereotype but in an inoffensive way, something cartoons can do extremely well. It's fun and irreverent and, despite its busy appearance, the overall execution is on point.
I'm back and forth on the coverline composition. I really dig how it has an almost 3D look, thanks to how each line of wording is layered and positioned within the illustration. However, I feel the words themselves get a bit lost in everything happening around them. It's a little unfortunate because it's such a provocative question that could stand on its own as an all type cover. That said, this is a pretty minor gripe and ultimately the typography totally fits the illustration.
If I had to change something here I might play around with a different background color. I'm not sure I like the bold red against so many other warm tones in the illustration. Something a bit more muted could support the logo (one of my favorite retro logos ever) and illustration more. Although symbolically, red is an appropriate color here.
— Caysey Welton / Group Editor / min