Face Up: Smithsonian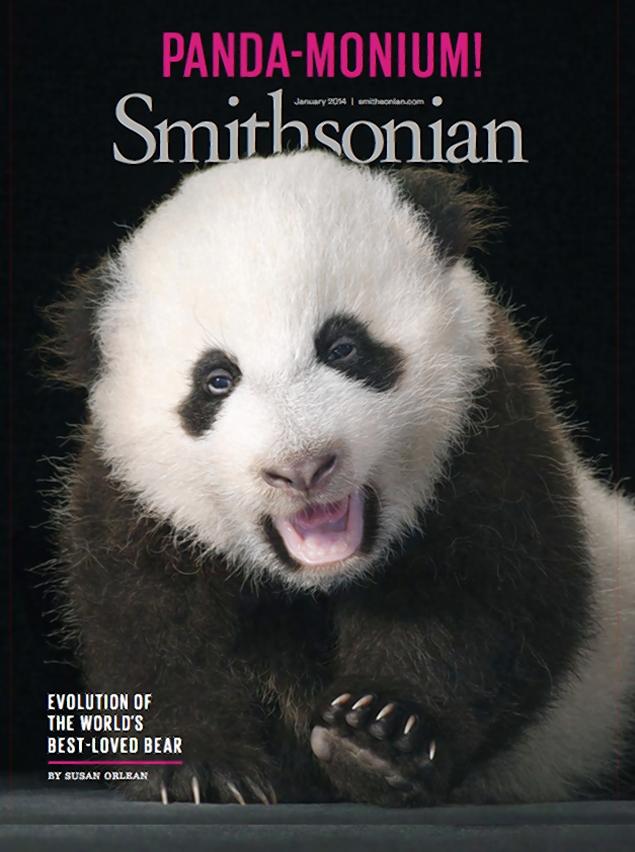 Editor: Michael Caruso 
Art Director:
Maria Keehan
Publishing Company:
Smithsonian Media
—
Pandas have captivated people's attention for decades and Smithsonian wanted to capitalize on that for its January issue with a photo album of the National Zoo's endangered newborn cub, Boa Boa. However, as it turns out, the package turned into much more.
"We were working on a big issue called '101 Objects That Made America' and at the time she [Bao Bao] was tiny and we had a picture of her mother as one of the influential objects," says art director, Maria Keehan. "No one had access to her then, but we decided that as soon as we did, we should make it a big deal."
Renowned animal photographer Tim Flach was brought in to shoot Bao Bao, but the sitting was not an easy one to pull off, according to Keehan. "Timing was a challenge, you have to consider time of day, feeding schedules. You have to be really careful about bringing in disease. It's such a delicate process."
Of course, there was more to it than that. "She was barely sitting up at the time. There were handlers and a lot of people in and around the zoo helping," Keehan says. Given that, Flach and his team had to do some careful finishing work to remove background noise and the hands propping up the cub.
The hard work paid off. Keehan says the team got exactly the photo it wanted-one that implicitly suggests, despite her cuteness, that Boa Boa is still a bear.
Although Smithsonian only sells a limited number of copies through its museum's newsstands, Pandamonium has newsstand flair. The image itself is hard to look away from, and is complemented by the primary use of black, disrupted by an enlarged magenta capitalized roofline, which Keehan says was very intentional.
"It needed one punchy and simple color," she says. "It's a process color, the magenta really seemed to meld well and stand out."
Designer's Comments
Smithsonian covers such a broad range of topics I'm always excited to see what visual direction the cover will take next-and once again, it doesn't disappoint. 
Featuring Tim Flach's photo of Bao Bao is striking in its simplicity-the image animal fans in D.C. and beyond waited for. Keeping type to a minimum to let the adorable image carry the cover is the correct approach.
The use of magenta as an accent color adds a nice bit of pop. Overall a solid, fun and engaging cover.
- Michael Goesele, Creative Director, Washingtonian
You just can't go wrong with a cute baby panda on your cover. But you can make the cover even better with a punchy headline strategically placed above the headline.
The newsstand version is going to grab people's attention with the cover line and will get the "aw" factor when picked up. Additionally, it is refreshing to see minimal additional lines on the cover, because it doesn't need them. The cover already has a smart headline, descriptive copy, byline of an incredible writer and an adorable photo, with magenta as an accent color to top it all off.
- Kelly McMurray, Creative Director, 2communiqué
— 
Have a unique "cover" story? Contact associate editor Casey Welton at cwelton@accessintel.com.
Meet the Author
---