Face Up: Seed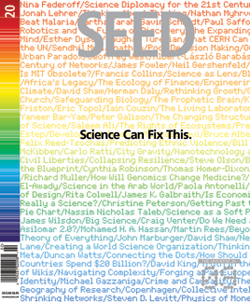 Issue: January/February 2009
Frequency: Bi-monthly
Launched: 2004
Circ: 30,000
Editor: Laura McNeil
Publishing Company: Seed Media Group, LLC
Creative: Outsourced to design firm 2×4, Inc.
Navigating complexity. Nassim Nicholas Taleb. Africa's Legacy. Is MIT obsolete? These, and close to 90 more phrases, influencers and questions, were part of Seed's "The Universe in 2009" cover as a method of conveying the ever-broadening role of science. "Our readers need to acknowledge that science has shaped the world and the way we approach things," says Seed editor Laura McNeil.
Since 2006, this annual issue has historically seen a heavier type treatment coupled with a cover concept. This year, however, the all-text cover was a first. With help from design firm 2×4, Inc., Seed "resolved itself to a table of contents treatment," says McNeil. Before passing it off to 2×4, Seed's in-house team compiled the terms to create this jam-packed cover. The editorially-driven treatment allowed Seed to pay homage to its issues internal color-coded tags, as well as the Web concept.
Seed's staff opted to keep the cover simple, vetoing the silver background highlights and multiple coverlines suggested by 2×4. While most covers aim solely for quality, Seed's was partly about the quantity of terms. "We wanted to convey that science has a broad perspective," McNeil says. "Once we included all of these names, pulled from the magazine content, and influencers, it amounted to the larger question," she says, in the form of the single coverline: "Science Can Fix This."
"At first glance, the terms aren't obviously scientific­—our coverline's goal was to clarify," she says. To bolster McNeil's point that science has shaped the world, copies of the magazine were distributed at the World Economic Forum's annual meeting, "Shaping the Post-Crisis World," in Davos, Switzerland.
In response to this cover concept, McNeil cites reader reaction as an indignant approval. "They agree with our concept, but asked, 'Well, why don't people know this?! Of course science can help! Why are you  [Seed] the only ones saying this?'"

DESIGNERS' COMMENTS
"There are many things I like about Seed. Its distinctive look is built around this axis and extended through the use of displaced vernacular typography, which references an earlier computer age. It's interesting to see its attempt to realize a cover through typographic form alone and without the support of the more conventional cover image. I want to like the results, but feel that if I compare it to others using the same approach—like Wired's more dynamic, concept-driven typographic covers—Seed ultimately falls short. Its cover is brave, but it lacks conviction and finesse. It is not enough to simply break the rules: It has to be done with reason, purpose and invention."

Phil Bicker | Creative Director | The Fader
"An interesting cover concept, the execution—both editorial and visual—fails to realize its potential. The use of the metallic 5th color is a nice element, as is the rainbow of color against it, but a dot-matrix font is kind of a cliché. Without a stronger editorial message backing up the provocative main blurb, it leaves a reader scratching their heads as to what needs "fixing." A more innovative approach to the content—utilizing many of the design themes on this cover—is online, where the same content justifies the smart reputation of this science-cum-culture magazine."
Robert Sugar | Creative Director | AURAS Design
Have a unique "cover" story? Contact FOLIO: Associate Editor Vanessa Voltolina.
Meet the Author
---