Face Up: Roast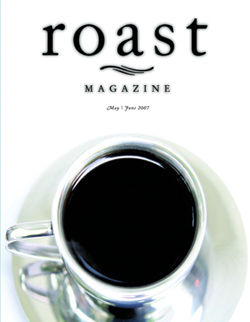 This Month: Roast
Issue: May/June 2007
Frequency: Bi-monthly
Launched: 2004
Circulation: 7,000
Editor: Shanna Germain
Publishing Company: JC Publishing
Creative Director/Arts/Graphics: Jeremy Leff
A coffee magazine's cover often uses a color scheme that reflects the warm, rich tone of coffee itself—"rustic colors like orange and brown," says Roast art director Jeremy Leff.  That is exactly why he and founder/publisher Connie Blumhardt chose this light/dark contrast for their special May/June issue to make sure it stood out from the crowd.
The issue is its biggest, according to Leff, because the Specialty Coffee Association of America tradeshow—the "granddaddy" of several other coffee shows throughout the year—takes place in May. "We wanted it to stand out, both from our other issues and the rest of the magazines at the show," he said. "Connie and I talked about something with white because we had not seen a lot of that, and silver because it is modern looking."
The image also tied in, by no coincidence, with the cover of their media kit—distributed earlier in the year to advertisers likely to be at the show—which features three silver cups on a white background. 
The picture was photographed by Blumhardt—"outside for the right light," says Leff, which meant he needed to "painstakingly remove tons of trees in the background" in order to make real their artistic vision. He also needed to smooth out reflections in the coffee and stretch the image to make sure the cup's handle was clearly visible. 
According to Leff and Blumhardt, the deliberation was worth it. "We had many trade show attendees stop by our booth and comment on how much they liked the cover and how much it stood out," said Blumhardt.
"It's refreshing to come across such a simple visual execution. The artist truly reinforces the essence of this title. There must have been great temptation to knock a cover line out from within the cup of espresso, and I commend his/her resistance to do so. Great contrast with limited colors, a very upscale feel—a great coffee table magazine. Well done!"
-Marco Turelli, Art Director, Wine Enthusiast Magazine
"This clean and simple approach is pleasing—a welcome change from the heavy-handed covers and nearly neon colors so common today—though I usually like to see some information on what's inside, something compelling enough for me to turn the cover."
-Reiko Matsuo, Art/Design Director, Editor and Publisher
"Since this cover is obviously preaching to the choir (b-to-b or Starbucks?), it probably can get away without the newsstand coverlines. The tasteful photo of a silver cup of very strong black espresso is made even richer by the stark white background and black type.  The tracked out lowercase logo and embellishment, softened by a subtle shadow, compliments the photo so well you can almost smell the coffee."
-Bryan Canniff, Bryan Canniff Designs
Meet the Author
---