Face Up: revenue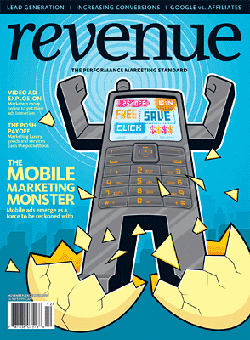 This Month: revenue
Issue: November/December 2006
Frequency: Bimonthly
Launched: 2004
Circ: 120,000
Editor: Lisa Picarille
Publisher: Montgomery Media Inc.
Art Director: Tamara Dyer
Illustrator: Aaron Pilanda
For the year-ending issue of 2006, revenue editor-in-chief Lisa Picarille wanted to display the impact that mobile marketing would have on the marketing and advertising industry in 2007. Although there were a lot of aspects to the story that would be more difficult to convey, Picarille decided illustrating a smart phone breaking through an egg would symbolize that the emerging mobile marketing is a force with which to be reckoned.
Picarille hired illustrator Aaron Pilanda, with whom she had worked before, to create the image. The cartoon-like style was a departure for the magazine, which typically uses simpler photo illustrations on its cover. The original illustration that came back from the artist was not exactly what Picarille was looking for. "I disliked the original cover," says Picarille. "It was similar but cartoonish with childlike primary colors. We wanted something more muted."
The original cover was done in bold red, blues and yellows, which Picarille says was too busy and obscured the magazine's logo. Rather than floating on the page, the coverlines were boxed in. She had to go back to Pilanda to work through her concern. "We tried to preserve his integrity and style and still make it work for us," say Picarille. "The result was very good."
After the new cover was created, the revenue design team added words to the screen of the phone to indicate the central issues surrounding the emergence of mobile marketing.
"The limited color palette in the subdued coverlines and background allows the hot colors on the small screen to stand out. The rich black outlines of the artwork also compliment the masthead to create a cohesive overall design."
–Bryan Canniff, Bryan Canniff Design
"Great cover visual, wonderful color and poster-like appeal.  Easy to read typography, with three stories highlighted in the main marketing area, plus another three in the skyline strip. This is strong cover marketing, with lots to choose from for the picky browser.
–John Brady, Brady & Paul Communications Inc.
"Excellent logo and effective use of simple skylines. Concept covers can be risky, especially if the reader doesn't get the message instantly. This one works."
–Greg Paul, Brady & Paul Communications Inc.
"This is an excellent cover. The message is clear and executed very well. The illustration's colors and perspective are 'dead-on' to the message. My only criticism would be concerning the tagline under the logo. It looks misplaced and awkward. Maybe they should relocate it flush right or to the top."
-Sharen Conway, Studio/monthly
Meet the Author
---