Face Up: Rangefinder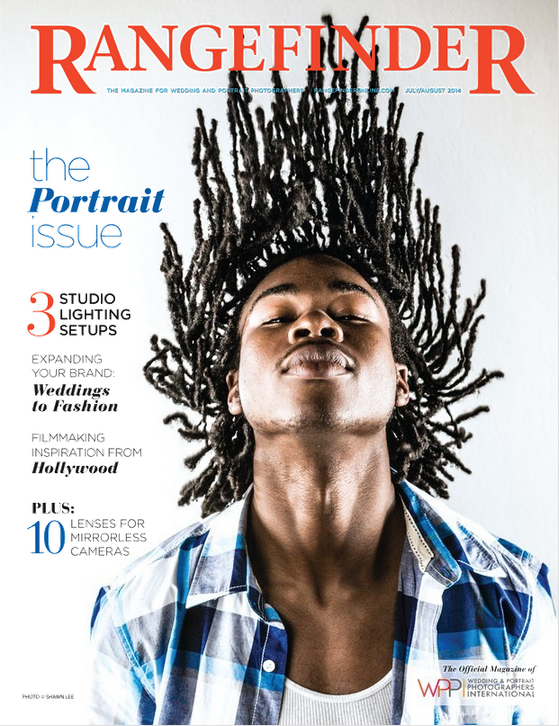 Issue: July/August
Frequency: Monthly
Launched: 1952
Circ: 64,000
Editor: Jacqueline Tobin
Creative director: Adana Jiménez
Publishing company: Emerald Expositions
It's pretty much a given that a photography magazine should have a great cover pic, issue after issue. That's easier said than done.
For Rangefinder, a trade publication for portrait and wedding photographers, selecting the right image is a collaborative effort. But it starts with creative director, Adana Jiménez.
The July/August issue has a lighting theme, and a feature piece on photographer Shawn Lee, who also snapped the cover photograph. Jiménez suggests that the Lee photograph works extremely well because it's not only tied to the feature story, but it also illustrates the impact of quality lighting.
Still, Jiménez does try to keep things simple without being too formulaic. For instance, she says that she tries to avoid using more than two colors that are derivative of the image. She says this helps her cover lines either stand out more or create a more comfortable environment, depending on the design objective. She also limits font use, not only for ease of production, but to keep a consistent, branded look.
"There's always a drive to find the strongest image," she says. "I usually come up with over 10 versions to find it. I look for anything that can give us an edge in terms of being eye-catching."
Rangefinder does have a small newsstand presence with 2,500 issues available for one-off sale. And Jiménez says she always takes that into consideration when she lays out a cover. However, she is also weary of templatizing the cover too much. "Our challenge is finding a strong, eye-catching photograph that doesn't put us in a bracket where we only use certain kinds of images."
DESIGNER'S COMMENTS
The cover image is vibrant and appealing with a strong aesthetic. The photo is alive and compelling because the model's dreads are full of motion. I especially like that he maintained eye contact with the camera. The cover's classic composition and deeply contrasting image and back- ground make for an eye-catching and timeless cover.
That said, I think the type is too docile, especially the logotype. 'Rangefinder' is a long word and the typeface choice and execution don't help. Something condensed would allow for some increased size and heft on the page and a more contemporary font would really help. Also, having the model's hair go over the logotype would have added some layering and depth.
The cover lines are designed well with a strong sense of contrast in weight and font, but I would like to see how they worked with them being larger and more obtrusive. They are meek and their deft design is lost at the present size. Although this is a magazine for photography, I wouldn't stop the typography from commanding attention. Shout your lines and the cover will demand attention from readers.
Although I like the contrast of the white background and model, I won- der what it would look like with another color flooded in, like a bright red? A color may detract from the image, but it might help with overall impact.
– Matt Strelecki / Creative director / Meredith Agrimedia
There's a lot to like about this cover. It's nice to see a magazine dedicated to wedding and portrait photography feature an active, engaging image on the cover, rather than something static. The photo is fun, graphic, attention-getting—everything that a great cover image should be.
I also like the design and cover lines. The type is nicely detailed, with a smart mix of multiple typefaces and just enough diversity of size and style. A less skilled hand could have made this look jumbled. It's helped by a restrained but effective use of color. And all the type works very nicely against the image to create a sparkling, visually holistic cover design.
See also: Face Up—Living the Country Life
However, I'm not a fan of the Rangefinder logo, which looks very dated and unsophisticated. Everything is wrong about that logo: the typeface, the letter spacing (which is very random, almost right-out-of-the-box, without refining), and that pair of big R letters at either end. The designer made the classic mistake of just blowing up the big letters instead of re-drawing them, so they're fatter and bolder than the rest of the characters in the logo.
While the overall design of the Rangefinder cover is sleek, elegant and modern, the logo looks like something out of an outdoors magazine circa 1975. Adding to the problem is the very long tagline under the logo, which is not only redundant but also nearly impossible to read.
– Robert Newman / Creative consultant / Robert Newman Design
Meet the Author
---