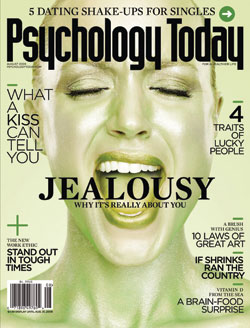 MAGSTATS
Issue: August 2009
Frequency: Bi-monthly
Launched: 1967
Circ: 307,000
Publishing Company: Sussex Publishers, LLC
Editor-in-Chief: Kaja Perina
Art Director: Ed Levine
Photographer: Andrew Eccles
Capturing a facial expression to represent the theme of an issue isn't as easy at it looks. New York's January 21-29, 2008 double issue, "Peace + Quiet," featured an outline-less woman's face with eyes closed, exuding relaxation and escape; more recently, Esquire's 2009 commemorative issue featured the 'Hope' headshot of a pensive Barack Obama that read "What Now?"
For Psychology Today's August cover, art director Ed Levine wanted to use an iconic image, "something that was strong graphically and emotionally," to convey the cover story "Jealousy: Why It's Really About You."
Levine opted for a simple green and black color palette so as not to distract from the cover image. An important consideration, however, was the model's make up. "I gave the makeup artist instructions before the shoot, and said the 'most important thing is that the model doesn't look Halloween-ish, like Shrek, or like the Wicked Witch of the West from the Wizard of Oz.'"
Achieving the shiny green glow required the makeup artist to combine green foundation with a binder to thicken it and apply shine over it, in addition to green lipstick. The green tongue was a product of Levine's post-shoot Photoshop handywork. However, the constraints of a one-day shoot offered little time to experiment with alternative shades of green.
While initially Psychology Today considered "making her [the cover model's] eyes green to represent jealousy, as in the expression 'green-eyed monster,' it was actually distracting," says Levine. The full-on green cover may be better suited to the expression "green with envy," but, as Levine says, "envy and jealously are often confused."
The overarching goal was to ensure that the cover didn't take on a synthetic quality. "We wanted it to have a natural feel," he says. "Often, I try to create a poster impact, but as PT is a general interest magazine, we're essentially selling the idea of being a person. I wanted to tie the cover to the gut emotion of jealousy."
DESIGNER'S COMMENTS
"Visually, this is a very arresting cover. The image is bold, yet simple—the cover lines are catchy and easy to read. Even though the cover has a lot of information, it doesn't feel cluttered to me, but informative. My only criticism is that the image seems to have little to do with the coverline. Yes, she's green with envy (…not actually the same as jealousy…), but she looks like she's proudly belting out the last note of a rock ballad. I don't get a sense of the emotional confusion and spite that jealously brings out in a person. But, maybe I'm just envious."
Karen Player | Art Director | Harvard Business Review
"As for the image, jealousy is the 'green-eyed monster,' not the Hulk. In order to convey jealousy, it would work to have her eyes open and green, and keeping her face 'un-green.' Eyes have a tendency to really attract people and draw them in, so having her eyes closed isn't adding anything to the cover. Her crooked mouth is also kind of disconcerting. I do love the + and – signs that the art director uses; they really work graphically. I also really like most of the coverlines. One that could use some work is '5 Dating Shake-Ups for Singles,' since I don't know what a 'shake-up' is; also, the coverline '10 Laws of Great Art.' I thought the point of art is that what's good is subjective. The word 'law' is also jarring. I would space the left side coverline "What A Kiss Can Tell You" to read: What/A Kiss/Can/Tell/You."
Thea Selby | Principal | Next Steps Marketing, Inc.