Face Up: Print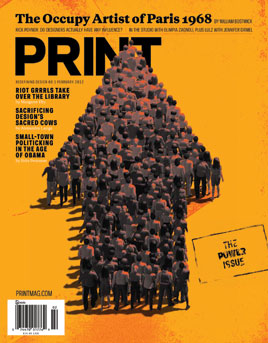 MAGSTATS
Issue #: 66.1
Frequency: Bi-monthly
Circulation: 400,000
Launched: 1940
Publisher: F+W Media
Art Director: Ben King
Editor-in-Chief: Aaron Kenedi
For its February issue, the creative team at Print identified a few overlapping motifs throughout its editorial lineup. However, a feature story exploring poster graphics created by Philippe Vermès and Aletelier Populaire during the French protests of 1968 served as a strong catalyst for the overlying theme: Power.
A visual record of these posters called "Beauty is in the Street," edited by Johan Kugelberg with the help of Vermès, is the basis for the feature. Unfortunately, Print writer William Bostwick (who interviewed Vermès for his article) wasn't the only one to take notice of the book.
"As we were approaching our deadline, I happened to notice that Bookforum [magazine] ran one of the graphics from 'Beauty is in the Street' on their cover, and I was increasingly unsure about leveraging the work so plainly for ours," says art director Ben King. "I gave the legendary Mirko Illić—a designer well known for his interest in protest graphics—a call and asked if he'd be interested in working on an interpretation of Philippe Vermès' work. Fortunately, he was excited by the challenge, and turned around what ended up being the main art for the cover only a few days later."
The art was developed through a 3D modeling program. Each simulated person (183 of them) was individually created. The orange shade was picked to pop off newsstands, as well as for its "storied history in protest graphics."
King says Print has also been experimenting with left-hand sub heads, and various types of skylines, to attract more eyeballs on the newsstand.

DESIGNER'S COMMENTS
"This is not the first time I've seen this concept (a large group of people forming an arrow). That's not a knock! As designers, we need to do storytelling with visual conventions that read quickly and succinctly. So, in the end, it's all about execution and attitude. This cover has great attitude! The posterization of the image and color choice give the cover a Bauhaus flavor. I also love the distressed type treatment of the headline. It's that kind of attention to detail that really sells this cover."
Robert Lesser, Design/Art Director, CFO Publishing

"I find this cover fascinating, and have mixed feelings about it. It's a great, bold central image, which dominates the cover. I love that it's ever so slightly rotated off center, and that it invades the logo, pointing up to the "Occupy Artist" hit (which the image ultimately references). The graphic and sparse design is spot on for the audience.

"I had a bit of 'hierarchy confusion' at first glance: I wasn't instantly sure which type was the companion to the image. Once I did, I found myself trying to interpret what the people-arrow plus 'The Power Issue' was trying to communicate. Personally, I probably would have tried to contextualize or explain to a potential reader what they're going to get from 'The Power Issue' more directly.

"As I took in the other lines, I found myself thinking the hierarchy confusion was intentional. Emotionally and indirectly it makes sense: The words 'Occupy,' 'Take Over,' 'Power,' 'Politicking,' and 'Do designers actually have any influence?' (great line!) all can relate well to the image."
Chris Imlay, Creative Director, Games Group, Future US

Have a unique "cover" story? Contact associate editor Stefanie Botelho at sbotelho@red7media.com.
Meet the Author
---