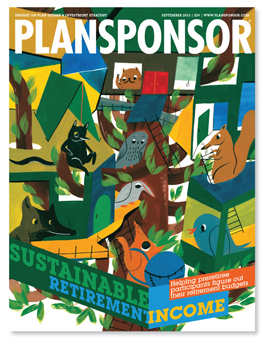 MAGSTATS
Issue: September 2013
Frequency: Monthly, 14 issues 
Launched: 1993
Circ: 40,000
Editor: Alison Cooke Mintzer
Creative Director: SooJin Buzelli
Publishing Company: Asset International

Before PLANSPONSOR's creative director, SooJin Buzelli goes to work on putting together a cover package, she first checks in with editor-in-chief Alison Cooke Mintzer to understand the message and tone of the issue. Once she does that, she begins thinking about which artist she wants to work with and what message she wants the cover to evoke.
"I look at it as curating my own show every month," Buzelli says.
And September's "show" is a colorful one that is brought together by illustrator Ping Zhu.
"I got the draft and I knew it was about budgeting after retirement and that was all I gave the artist," she says. "This is a serious topic and we didn't want to scare them [readers] off because it's very technical stuff. The tree house is fun and will draw in the audience."
PLANSPONSOR may have a closed circulation, so it doesn't have to compete on newsstands, but Buzelli says her cover selections are still crucial. "People get a lot of b-to-bs landing on their desk, so I am competing with a lot of other magazines."

DESIGNER'S COMMENTS
My first impression is that this is a good-looking cover. The illustration has a great color palette and a successful composition. The tones used are elegant, yet it has a positive, happy feeling.
The distorted type could have been placed higher and integrated within the illustration to achieve a more cohesive look. The breaking on the main cover line disrupts the message instead of clarifying it.
I don't think the intended message is completely clear. Part of this is due to the lack of action on the main coverline itself. Actionable or promise-filled cover lines tend to work better with conceptual illustrations.
Alejandro Chavetta, Creative Director, Dwell
PLANSPONSOR  has a rich history of using stellar illustration on its covers and throughout the pages of the magazine. The September cover is a very fun image, but unfortunately it doesn't work very well. There is no real focal point, which makes it feel busy and provides the viewer with little direction.
The tree house concept and style are great overall. A stripped down version with less shapes and characters would have made this a solid cover. Still, I look forward to being pleasantly surprised and engaged by its future covers.
Michael Goesele, Creative Director, Washingtonian Magazine
I'm happy to see a b-to-b magazine like PLANSPONSOR doing an illustrated cover, and especially one in this childlike, almost naive style. That's very unusual, and very brave. It makes this cover feel smart and contemporary. And it takes a dry and often-covered topic, retirement income, and makes it feel interesting and fresh. The cover headline is simple and direct, bold and bright, and stands out cleanly and is integrated well with the illustration.
However, the artwork is too dense and complicated. I actually like the style; I just think the art director should have had the illustrator make it cleaner and simpler. I also think there's not a consistent sense of finish throughout. There are places where the artist puts more polish and others that are raw and under-baked (the little grey bird in the middle, for example).
Getting rid of some of the angular color panels and articulating critical parts of the illustration would have made this a much more successful cover. And since everything has the same scale, and there are so many colors, there's really no focus to the art.
Robert Newman, Creative Consultant, Robert Newman Design
Have a unique "cover" story? Contact associate editor Casey Welton at cwelton@accessintel.com