Face Up: Pet Age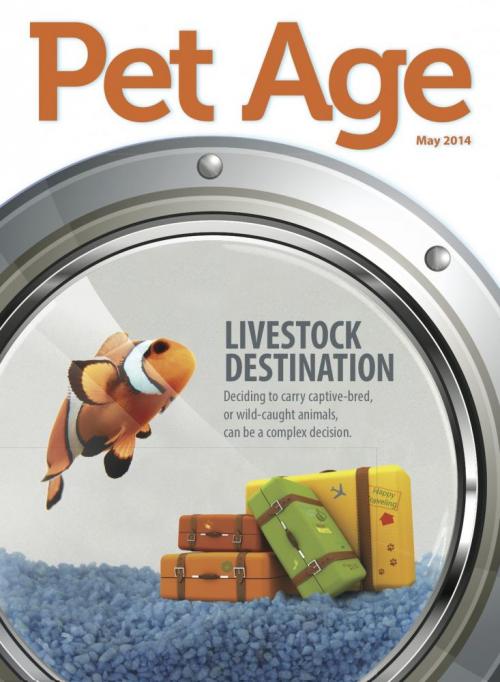 Issue: May 2014
Frequency: Monthly
Launched: 1970
Circ: 26,350
Editor: Michelle Maskaly
Cover Designer: Kevin Paccione
Publishing Company: Journal Multimedia
For its May issue, Pet Age wanted a cover that conveyed the sometimes-long journey exotic pets take before they end up in pet stores and homes. The team could have gone in several directions, but to keep it accurate they wanted a theme that illustrates exactly how the pets are transported, while making it playful and eye-catching.
Cover designer Kevin Paccione says the design team along with the editorial team landed on the concept pretty quickly, which was a change of pace in a typically tight production schedule. "For this concept we hit the ground running," he says. "We had the idea and went with it. Usually we try to throw out several ideas, but in this case it was pretty straight forward."
Still, it wasn't a simple production. "I had to do research," Paccione says. "In the design process you sometimes get carried away trying to get things too realistic. I looked at probably 700 images of portholes."
All that research turned in a few ideas how the porthole should be illustrated. The team tried a wooden porthole (which is used for the editorial package inside), a steel background and other elements that communicated the fish was inside the boat cruising to its next destination. But in the end, Paccione settled on the metallic porthole against a stark-white background, thinking readers would get the concept right away.
Paccione admits that he didn't tinker with the photos much, for instance the luggage stickers were already placed on the stock image of the suitcases. But he says in hindsight he might have played with the photos more, even adding fish tank décor like a treasure chest or aquarium plants.
More research went into the fish, too. Paccione asked the editorial team for a list of fish that would actually be shipped by boat. The clownfish became an obvious choice, not just because its popularity with fish owners, but because they are orange which he says, "is a great color to use if it's done correctly."
Designer's Comments
I need to mention the logo once, so I can separate it from my genuine like of the rest of cover. So here goes: It's way too big and it overwhelms anything a designer tries to do with the page.
The cover is fun, though. The first and easiest approach would have been something showing someone actually transporting an animal, whereas this is taking a step sideways, and playing with the notion of a pet trip, taking it away from the interpretation that the transportation of animals is necessarily a bad thing. Whether I agree or not, this is an example of design rendering an issue benign, and is clever for doing so.
We're looking through a plane window from the outside, right? Might have been nice to have the logo (sorry, mentioned it again) done as plane fuselage branding, and the cover line as the lettering around the glass, to make the whole cover part of the design concept. I like the idea and wished they had carried it further.
What would I have added? Something clever on one of the wee cases, that nodded to the story itself.
David Gray/Design Director/Out Magazine
Pet Age's cover is a bit sparse, static and disjointed. Its typography, logo-type and assembled photo are not as integrated as they could be. The logo, a bit dull, could use some customization to bring excitement to the world of pet shop entrepreneurs. The porthole/tank environment is confusing and doesn't support the issue of obtaining exotic creatures through wild capture.
The idea of a fish traveling with its suitcases however is a great start that may have reached its full potential as an illustration. I can imagine a strong, humorous Dr. Seuss-like illustration of a fish (or a lizard) contemplating its travels-with two suitcases. Perhaps such illustration could have busted over the logo to integrate the cover elements better.
It's a challenge to create a strong, original illustration for a b-to-b publication on a limited budget and little time. This topic is of enough importance to pet shop owners to have warranted the extra care and expenditure.
Mark Montgomery/Senior Art Director/IEEE Spectrum
Meet the Author
---